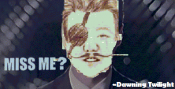 Joined

Jun 6, 2005
Messages

8,020
Age

35
ROSARIO VAMPIRE: THE NEW YEAR
Yokai Academy is your everyday school. There are bullies, nerds, jocks, rich kids and more. The teachers all hand out lots of homework and the students tend to complain. For the most part everything at Yokai Academy is normal, except for one big thing. The students and teachers at the school all happen to be monsters! From Werewolves to Ogres all monsters eventually go to this school and now a brand new year is about to start at Yokai Academy. But what awaits the students within the school this year?
PLOT
It's been about 30 years since Yokai Academy students Tsukune Aono and Moka Akashiya graduated and now a new generation of students have entered the great school of Yokai Academy. However something terrible is about to happen that could be a fate worse than death for most of the students. So the question remains, what will occur this year at Yokai Academy and is there anyway to stop it? Only time will tell…
The first day of new beginnings, it was a chance for a fresh start for Cole. Now was his chance for the life he desperately wanted and he had promised himself that he would not screw it up no matter what. Cole walked through the hallways of Yokai Academy. Everything looked so brilliant even though it was a school for monsters. Cole was so eager to get to his class that he had not only forgotten to wake his brother but also managed to get lost twice! As he looked around the hallway monsters of all types in their human forms walked about. Suddenly Cole bumped into something and immediately turned around. A massive towering monster stood talking to someone else but had stopped his conversation when Cole had bumped into him.
"Sorry about that, I'm new here," Cole said as he bowed and started to walk away.
A large had reached out and grabbed Cole by the shoulder before turning him around forcefully.
"What the hell do you think you're doing," the monster asked him.
"I was just going to my first class," Cole answered.
"Without apologizing," the monster said his angry eyes glaring down at Cole.
"But I just did," Cole said insistently.
"You call that an apology? Get down on your knees and beg me to not smash you into oblivion," the monster shouted.
Cole turned his hand into a tight fist. He wanted to just turn around and leave but he couldn't make enemies just yet. Taking a deep breath he slowly lowered himself to his knees and bowed.
"I humbly apologize may I now leave," Cole asked.
The crowd of monsters in the area watched in awe. Some surprised that he'd actually bow while others were scared that a fight could erupt. Slowly the large monster smiled as he looked down at Cole.
"Yeah you can leave. But if you bump into me again you'll be doing a lot more than just a simple bow freshman," the monster said.
Slowly Cole got to his knees and started to walk away. Suddenly something whizzed through the air and hit the large monster in the back. Cole froze feeling an ominous feeling of rage and anger flow over him as he turned around slowly to see the large monster with an angry glare on his face.
"So you're gonna throw something at me huh," the monster asked.
"I don't know what you're talking about," Cole said innocently.
"Shut your trap," the monster roared and with that threw his right fist forward at Cole.
Swiftly Cole rolled out of the way to a safe spot. The lockers that had been behind him now had a huge fist in them. Slowly the large monster removed his fist as he turned to face Cole. A massive dent now lay on two lockers. The monster's angry gaze flew down and locked on Cole as he threw another punch but missed as Cole sidestepped. That was when the second fist flew down after him. There wasn't enough space to dodge this one though as Cole closed his eyes trying very hard to suppress his powers and his urge to fight back. That was when Cole noticed that the large monster had stopped or rather was being forced to stop. Sky stood holding the monster's right arm tightly with his left arm a serious look on his face.
"You shouldn't do that. It wouldn't be the smartest idea to attack him," Sky said.
"Why not," the monster asked.
"Well first of all he's my brother and second of all he'd of incinerated you and everyone in here," Sky replied.
Slowly the monster looked forward at Cole. Flames were floating around his body and Cole was still trying his best to suppress his urges to release them. The monster swallowed hard as he turned back to face Sky.
"Uh sorry it won't happen again sir," the monster said.
"Good see that it remains that way," Sky said as the monster walked away slowly and Sky slowly approached Cole.
Slowly the crowd of monsters walked about their own business doing whatever else they had intended to do before the whole fight broke out.
"You're a real idiot you know that? Picking a fight with a man like that? You could've incinerated the entire school," Sky shouted.
"I'm sorry. But in my defense I wasn't trying to attack anyone. I just bumped into him and he attacked me," Cole replied.
"Nevertheless you should have woken me up before you left and why didn't you take these with you," Sky asked as he held up a pair of gloves in plain view.
"I must have forgotten them. I was just so excited to go here," Cole answered as he reached out and grabbed the gloves before putting them on as the flames around him slowly diminished.
"You're lucky I got here when I did or you would've been in big trouble," Sky said as he sighed. "But then again that's just like you. Anyways get to class you have a lot to do today, this being your first day and all."
"Ok I'll see you at lunch then," Cole said as he walked away slowly down the halls of Yokai Academy.
Sky sighed as he watched his little brother walk away. It was Cole's freshman year at Yokai Academy and he didn't want anything going wrong with him. But if this was a forewarning for what was going to happen in the future. Then there was nothing he could do at all. Slowly Sky turned and walked over in the direction of his classroom and away from the scene of the crime.