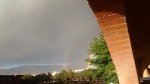 Joined

Nov 2, 2011
Messages

5,422
Awards

2
Age

31
Location
Website
Read through the leak, maybe it's the skeptic in me, but I don't buy the leak. Nothing in it stands out as "This is real" and it's not like there are pictures like there were with the Monster's Inc one, so I'm kinda doubting this is real. Plus having Sora as a human really hurts Jungle Book's plot and, maybe I'm just being an optimist, but the way the trailers have looked so far KH3 is really giving its all to respect the source movies and something like making Sora human in a Jungle Book world would be handling the property really poorly.

That being said, I don't really want this world either. I'm not a big fan of Jungle Book and there are other classic movies that I enjoy more than Jungle Book that I'd rather have the spot go to, and a ton more Post Renaissance movies that I'd rather see in the slot that'd definitely fit in with the plot of KH a whole lot more, so I'm kinda hoping this isn't real.
True, there are a lot of films that could get better treatment than the Jungle Book. I don't see anyone speaking out for a Mary Poppins world. It might work since the world is both live action and animation.