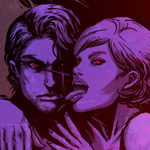 Joined

Aug 4, 2005
Messages

9,934
Website
Frriend picked it up and we've been playing two-player story mode and holy shit it's fun when you crank up the difficulty. I know it looks like dynasty warriors but there is much more going on behind the seemingly mindless gameplay. Sure you can run up and mash the standard attack button on the peons but you will get your ass whooped when you face a general. If you can't parry you'll get guard crushed to oblivion.

Part of the fun of the game is figuring out how all of the moves at your disposal can be strung together, and doing so is pivotal to getting a good rating and all of bonuses that come along with it. Some of the best techniques in the game actually require skill to us. One of the characters for example can choose to forsake his defense for sheer offensive power, but you risk getting gunned down by ranged attacks and some enemy attacks cannot be interrupted with attacks of your own. This same character has another technique that's a one-hit kill, but you have to charge it *just* right and you're vulnerable the entire time.

The story mode also has tons of different paths for each character, which can determine just who is an ally and who your foe. Not to mention there are special optional objectives for each battle. Going through different paths is the only way to unlock some characters.

I recommend it.