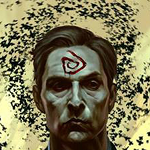 Joined

May 16, 2007
Messages

5,612
Awards

4
Location
Upon closer inspection, the hilt of the keyblade doesn't really match up with Vanitas's keyblade. It's a gear, definitely, but not the same, so I don't know how liberal you'd want to be in assuming there's a connection.
Vanitas doesn't even have a body. how would Young MX be "Vanitas" if young mx existed long before Vanitas came into existence? its pretty clear that the young mx turned into geezernort anyway. why is it when mx started to come into the game Young MX just "Disappeared".
besides seeing how MX himself wrote reports even when he was young as seen in BBS i highly doubt that's "Vanitasnort".
You're not understanding what I'm saying.
The Young MX we see in DDD is
not actually
a young MX.
We have MX as a boy and then Vanitas turned into a Xehanort, two different entities.
Also, the YMX in DDD exists separately from MX, I posted a link earlier in the topic, check it out.