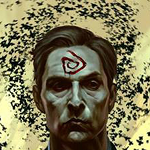 Joined

May 16, 2007
Messages

5,612
Awards

4
Location
Just something quick I'd like to point out.

So I was watching the opening with English lyrics (what with its entirely irrelevant lyrics and all), when something hit me that had never sunk in the other times I was watching it:



Toward the beginning, they used the clips from The Gathering where TAV pick up the KK, IKK, and WtD, respectively.

You might deem this as having no importance, a concept in the secret ending which they ditched, but were too lazy to cut out in the intro.
But look at 0:33, when the flashing begins. That scene panning in on Terra in his armor was in neither secret endings. And if you pause it at the right time, you'll notice that the three are indeed holding the KK, IKK, and WtD.

While I would have considered it a ditched concept if they had just threw in scenes of The Gathering, the fact that they made that one scene with the three holding those keyblades just for Birth by Sleep makes me suspicious.

Obviously, in the literal sense, that never happened, but clearly the presence of those three keyblades still holds some symbolic importance.
So my question is: What's their symbolism?

How is Aqua connected to the IKK, Terra to the KK, Ven to the WtD?
Last edited: