Like the rest of you, I am eagerly awaiting KH3's DLC & however long KH4 or whatever the next big entry ends up being, Now I don't know about the rest of you, but I am also totally down for more spin-offs & side games. So in this thread, we will share our dream KH games, regardless of how likely they are to actually happen.
"Mushroom Kingdom Hearts"
(game with Nintendo worlds)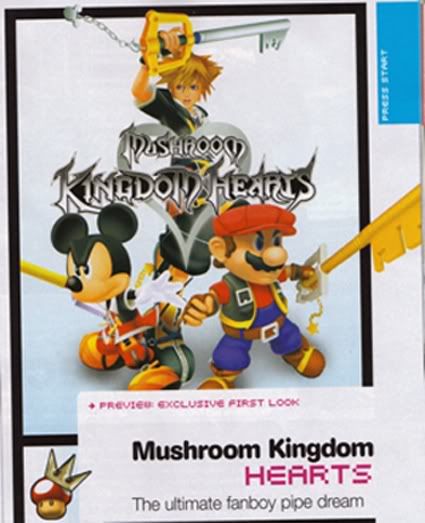 Aw, the old April Fools gag from a magazine way back when KH2 had just come out. Sure it may have just been a joke but you know what? I love this idea. Why not go even crazier with the crossovers & bring in another company's worth of characters? & it would certainly be a surefire way of finally getting a KH on a Nintendo home console (long overdue IMO).
In the years since this mag gag there's been a couple of things that happened that kinda opens the possibility of it not being completely impossible:
1. A Disney Interactive exec expressed a desire to see Mario & Mickey in a game together.
2. Wreck-it Ralph happened & now it's a KH world.
While Bowser's the only Nintendo character to appear within the film, it can be inferred that other Mario franchise characters also exist. In fact, It is entirely probable he hails from a
Playchoice 10 arcade machine,
which typically houses multiple NES games like Metroid, which opens the chance of other Nintendo properties in KH.
The story for the WiR world in UX has yet to be completed, but due to its connection to the main plot thread of the dandelions, I think there's a very solid chance of it reappearing later on down the road. So what I'm picturing is a pseudo RE:Coded 2 with Data-Sora getting sent into Grand Central Station to find the missing keyblade wielders. This search has him going into the various game worlds, most of which are based on different Nintendo IPs like Mario, Zelda, or Kid Icarus. Add in an outside antagonist like Maleficent which casts a spell/reprogram the worlds so the "bad guys" actually become legitimate bad guys that Data-Sora must fight & we have ourselves a game.
Kingdom Karts
Because I'm just that much of a slave to bad puns. This might actually be a game where Disney becomes more lenient with their characters crossing over, kart racers are more family-friendly after all. I also half suspect this would be Kairi's best chance at ever being playable honestly.
358/2 Days remake
The series may be moving on from the Xehanort saga, but I still fell amiss that Days & Coded haven't gotten proper playable HD renditions. Days, in particular,
I feel direly needs a remake that doesn't just updates the graphics but overhauls the entire structure of the game.

An all Gummiship game
I'm sure this ranks high in the "why would you want that" category, but I always loved space flight games. Star Fox 64 is my favorite game of all time & Rogue Squadron/X-Wing/Tie Fighter were my jam back in the day. I even started enjoying KH1's routes more once I started making my own custom ships. So I'm kinda down with the Gummiship becoming a whole game in of itself.
How does that even work, you ask? By doing something yet to actually happen: flying the Gummiship in Disney worlds. This would require a very specific world line up as only worlds where flying & aeriel combat are already a big element make sense.
-Star Wars, like yeah duh. Half this game could be different SW planets.
-TaleSpin, a cartoon where flying & dogfighting were the main action scenes. Don Karnage & his crew could have the Pete role as recurring minon antagonists
-Deep Space, we've already a hint of space combat in BBS.
-Buzz Lightyear of Star Command, OK maybe it'd be a bit iffy to have a "real" Buzz in the same universe as the Buzz toy, but if there's LCD games starring Sora & Mickey or multiple versions of France in a single game, then it's not that much more of a stretch.
-Tron Legacy
-Guardians of the Galaxy, have I lost any of you yet with these world choices?
-I don't really wanna say Planes, but it fits.
-Dragon Maleficent bossfight
-Hook's ship bossfight
-Monstro bossfight
-Sin from FFX & Sky Fortress Bahamut from FFXII bossfights
Dissidia Kingdom Hearts
Originally Dissidia was intended to be a KH fighter but Square decided to change it to FF because they figured Disney would reject it. The wording is key there, Disney didn't actually reject the concept, Square just assumed they would & didn't even bother pitching it to begin with. Granted, this was probably a safe fair assumption to make given how much Disney & Pixar tightened the noose with their characters. A duel to the death between Buzz & Elsa on the sands of Agrabah wasn't exactly very likely to get approved.
& yet that exact scenario was possible in Disney Infinity, which had PvP elements. Nothing was stopping players from making Mickey & Minnie fight it out or Aladdin & Jasmine, let alone characters from 2 different franchises. Disney even promoted a few user-made PvP arena levels. Within the KH series, there's been at least 5 occashions in which we've fought Disney heroes: Hercules in KH1/KH2, Beast in KH2, Peter Pan in BBS, Tron in DDD, & Ralph in UX (though I guess calling Ralph a hero is technicallya bit dubious). So I kinda do wonder if this is truly that far out of the realm of possibility. Perhaps if the game's story had the right context to justify hero vs. hero battles like mind control, replicas, it happens in the dream realmor 1 of the players has to be an anti-form heartless in the form of a Disney character instead of the character proper.
But even in the worst case scenario where Disney forbids playable Disney characters, D:KH should be entirely doable with a roster of originals. Lords there's enough of them at this point to fill out a fighting game roster, especally when the 7 of light vs. 13 of darkness already sounded like a Dissidia plot. Even in thise case, Disney characters could still have some presence as summons or links so they're not completely left out. IDK, I just feel like Square dropped this idea too quickly.
Vanitas (& Disney villains) game
Last one from me. Vanitas is probably my favorite original villain in KH & I feel we could always use more evil Haley Joel Osment in our lives. So in thise game Vanitas comes back from the dead somehow (possible half-assed explanation: Past Vanitas in a replica body was actually stealing scream canisters to power his revival post KH3 rather than to make his KH3 self stronger) & teams up with Maleficent & Pete with other Disney villains as guest party members. Why Maleficent & Pete? Basically to mirror Donald & Goofy as Sora's party to further hammer home the comparison. However given what's going on in UX, it does make sense that Maleficent & Vanitas may wanna work together due to a mutal connection to the past history of the unions. A subplot I envisioned with this game is that Maleficent & Pete have lost control of the heartless & so they're in need of new allies to fight with. I'm gonna go further with this dream game idea by going more in depth woth game mechanics & world/guest party/boss line-ups.
New Mechanic #1: Boss Forms. When a party member takes enough damage, their limit meter fills & they can transform into their "Final Boss Form". This transformation includes a change of music & both the party member & present enemies are transported to a boss form specific battlefield. Players have direct control over the transformed party member during this sequnce (all other party members including Vanitas will be absent during these phases). The party member reverts back to normal when the either the battle ends or they take enough damage to lose their form.
New Mechanic #2: Minion Summoning. Each party member has their own henchmen that can be summoned into battle, enabling a simple RTS style command menu to direct the flunkies. Again, the player has direct control over the forces of party members. The number of minions that are summoned increases as the party member levels up over the course of the game.
For the sake of argument I'll be going with a best case scenario for Disney worlds+disney heroes that become bossfights. Clearly if an actual vllain led game were to be made Disney would be a bit more restrictive but this is my dream game here. Many worlds have a heroic enemy force to fight in addition to heartless.
Main Party
A. Vanitas
Boss form: Chimera, a eldritch horror made up of the parts of various unverse
Boss Form's Music:
Unbreakable Chains
Minion Summon: Unverse
B. Maleficent
Form: Dragon
Music:
The Deep End
Summon: Goons
C. Pete
Form: Julius (don't ask how, it won't be explained in-game)
Music:
Rowdy Rumble
Summon: The weasel soldiers from "Prince & the Pauper"
Worlds
PS. Yeah, so m,aybe I'm a little bored waiting for RE:Mind.