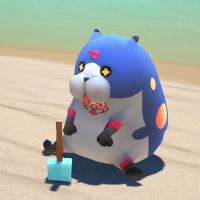 trapped in revamp hell
Staff member
Joined

Nov 1, 2009
Messages

17,758
Awards

36
KINGDOM HEARTS Union X has updated with 5 new story quests!
Watch the scenes with English subs, translations by goldpanner!
(Ralph pushes the kart all the way to Diet Cola Mountain.)

Vanellope: Drive into the wall!

Right there, between the two sugar-free lollipops!

Ralph: Are you crazy?!

Vanellope: Just do it!

(Ralph does as she says, but just as they're about to pass through the lollipops, a Wyvern swoops down to attack them.)

Vanellope: Hurry, or they're gonna catch up to us!

Ralph: Not if we can help it!

(Ralph pushes Vanellope out of harm's way and returns to help Player take down the Wyvern.)
(They defeat the Wyvern. Vaneloppe emerge and the two hurry into the mountain, disappearing from view. Player spots King Candy approaching and hides.)

King Candy: Where'd they go?

Find that glitch. Destroy that kart. She can't be allowed to race.

(Player emerges from their hiding spot once they've left. Chirithy appears.)

Chirithy: I wonder why King Candy is so against Vanellope joining the race?

Plus, the Heartless are here for some reason too.

Looks like this just got more complicated than "Follow Ralph."

(Player nods.)

Chirithy: Let's stick with Ralph and Vanellope for a little while longer and see how things play out.

(Chirithy leaves. Player enters the mountain to find Ralph inspecting the layout.)

Ralph: What's this?

(He checks out a sign.)

Ralph: "Watch out for falling Mentos?"

Vanellope: Yeah, check it out. Look!

(She throws a rock at a stalactite. A Mentos falls into the pool of Diet Cola and a super hot geyser shoots up into the air, nearly splashing Ralph.)

Vanellope: Oh, you gotta watch out for the splash. That stuff's broiling hot.

Ralph: Yeah, I got that, thank you.

What is this dump?

Vanellope: I think it's some sort of unfinished bonus level. Yeah, it's pretty cool, huh?

I found that secret opening, and now I live here. 

Ralph: By yourself?

Vanellope: Well, yeah. I mean everyone here says I'm just a mistake, and that I wasn't even supposed to exist. What do you expect?

Ralph: Listen, kid... I know it's none of my business, but why do you even stick around this game?

Vanellope: You really don't know anything, do you? Glitches can't leave their games. It's one of the joys of being me.

(Ralph sympathizes with her, and suddenly, he gets an idea. He starts pounding on the ground.)

Vanellope: Hey! What are you doing?!

(The ruckus attracts some Heartless. Player quickly goes to confront them.)

Vanellope: These things again! Stay out of my home!

Ralph: Leave it to me! I'll take out the trash!

(He joins Player in battle.)

Ralph: Come on, lend me a hand.
(Ralph and Player easily deal with the Heartless. Once dispatched, Ralph continues his work pounding on the ground until a race track forms.)

Ralph: If you're still going to be a racer, you have to learn how to drive, and you can't do that without a track.

Vanellope: Whoa.

Ralph: Alright now, let's hustle up. We got some driving to do.

(Player exits the mountain and reconvenes with Chirithy.)

Chirithy: Yeah, we aren't going to be much help with kart lessons. Let's give them some time and come back later.
Ven: But……

Lady Ava really did tell me I was a Union Leader……

Brain: I believe you, Ven. You're not lying.

Ephemer: Then, did Lady Ava do this on purpose after all?

Brain: No. As awful as this may be, it's likely that Lauriam's little sister Strelitzia is no longer with us... She was supposed to have been a Union Leader, and she was supposed to have been a Dandelion. But, she's not.

If Lady Ava really was the one behind the switch, she wouldn't have just sent Strelitzia into the war without saying anything. The fact that she no longer exists is proof that this was not by Lady Ava's design.

Ephemer: Then who brought Ven in?

Brain: Why were we chosen to be Dandelions?

Ephemer: To connect the light to the future, right?

Brain: And if only the light were to continue on - what would oppose that?

Ephemer: ……Darkness.

Brain: Darkness can hide anywhere...

Even inside someone.
(Lauriam confronts Maleficent.)

Maleficent: I see. So you are all trapped in here too.

Lauriam: You aren't wanted here.

Maleficent: Typical. In that event, I best be on my way.

Lauriam: This isn't the exit, though.

Maleficent: Hmm, it appears you haven't a single clue about the true nature of this room.

Lauriam: I'm afraid not. This place just isn't my style.

Maleficent: All prisons are made with exits. This "day-tah" cage is no different. That is what this place is, after all.

And so, as per your wishes I will take my leave.

Lauriam: Huh. I didn't realize this place was so important. I thought it was just a simple lab, or a storage room.

Maleficent: It is both, actually. Apparently a particular kind of research was conducted here. But the remains of that research were subsequently abandoned.

Now then, I must bid you farewell.

(He rushes forward with Keyblade in hand. Maleficent guards against his attacks.)
Skuld: Darkness disguised itself as Lady Ava?

Brain: Ventus, when you met with Lady Ava, did anything seem off about her?

Ven: Hm…… I don't know……

Ephemer: What exactly did she say to you?

Ven: That she wanted me to be one of the five Union leaders... And, she gave me a rule book… She said if I went to the final battle ground once everything was over, the other four would be waiting there.

Brain: You did say that when we first met.

What else?

Ven: ……At the very beginning, she summoned me to a dark, abandoned house…

Ephemer: What? Not by the tower?

Ven: ……We started off at the house, and then made our way towards the tower as we talked...

Brain: Can you remember what happened?

Ven: Yeah……

(Ven thinks back to the moment he entered the abandoned house.)

Ven (voiceover): That day, I was summoned by Lady Ava to this abandoned house……

(He warily steps into the house.)

Ven: Lady Ava…… It's me, Ventus.

Lady Avaaa!

(When she doesn't answer, he ventures forward into the darkness.)

Ven: Maybe I have the wrong place……?

!

(He turns around suddenly.)

Ven: Who's there?

(Strelitzia enters the building. The screen turns dark.)

Ven (voiceover): I think……

(Ven and Ava exit the building, the former with the Union leader rulebook in hand.)

Ven (voiceover): That's when Lady Ava showed up, and we left the abandoned house together… On the way to the tower, we talked about the things I just mentioned.

(They walk and talk, winding up near the tower as Ven had previously said.)

(Back to present day.)

Brain: You said "I think" just now, why?

Ven: Lady Ava arrived... I don't remember what I was doing until Lady Ava came and we left the building... But, I think we did so as soon as we met up.

Brain: Are you absolutely sure that was Lady Ava?

Ven: Um……

(Ven gets a flashback to when Strelitzia was slayed. A shrouded figure picks up her fallen book.)

Strelitzia's Chirithy: Why……

(Ven clutches his head. Skuld rushes to his side.)

Skuld: What's happening?

Brain: For now, let's get back to the tower. 
(Back to Lauriam. He's lying on the floor unconscious as the room suffers severe damages. The ark pod in the center of the room has been severely damaged and one is missing from the back right.)
Last edited by a moderator: