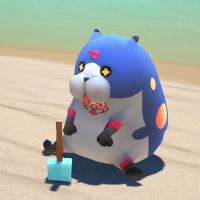 trapped in revamp hell
Staff member
Joined

Nov 1, 2009
Messages

17,758
Awards

36
Kingdom Hearts Union X Japan updated with 5 more quests today (No. 871~875). 
Watch the scene with English subtitles, translations by goldpanner!
(Brain is working away in the control room, when voices call out his name.)

???: Brain!

Brain: Ephemera! Ven!

(The two run in, with Player and Chirithy following behind.)

Brain: and… who's this?

Ephemera: Player, my friend.

More importantly, what's going on? Things are crazy outside.

Brain: I think I've managed to stop the invasion for now, but…

(Brain continues to explain as everyone approaches the table piled on with loads of books.)

Brain: Well, since your friend is here, and the structure of this world is complicated, I'll put it as simply as possible…

Before the Keyblade War— this world, Daybreak Town, projected worlds pulled by the Book of Prophecies from the future.

Like standing here and opening a pop-up book. They were all worlds from the future. Worlds that were never real in the first place weren't being pulled.

(Brain lays out some books on the table, side by side.)

Brain: So even without using the Book of Prophecies, these worlds existed joined to Daybreak Town. Only, time would be set in the past.

Ven: Huh?! Really? We could've gone to them??

Brain: They wouldn't have been easy to find, though.

(He lays more books on the table.)

Brain: The world was constantly expanding, you see. And then, after the Keyblade War—

(He scatters the books.)

Brain: These worlds that were once joined together were scattered apart. The fact that this would happen was written in the Book of Prophecies, so in order for "worlds from the future" to be projected into Daybreak Town without the Book of Prophecies, several worlds were converted to data. You know this, right?

Ephemera: Yeah.

Brain: Basically, everyone in Daybreak Town, including us, are just continuing what we did before the Keyblade War:

From the real Daybreak Town, via the data world Daybreak Town, we visit future worlds projected as data. Do you understand so far?

Ephemera: Um, yes, I'm following.

Brain: Then, a question.

(He picks up two books and raises them up, one in each hand.)

Brain: The Daybreak Town we're in right now:

Real? Or data?
Which is it?

Ephemera: Hm…

I mean, common sense would tell you it's the real one, right?

(Ven nods. Player is surprised.)

Brain: Right? But what's happening now is not so "common" at all.

Ven: Huh? Are you saying this is the data world?

Brain: I wish it were that clear…

That glitchy phenomenon. This should be the real world, but a data world phenomenon is happening here.

Ephemera: Why??

Brain: As I said before, Worlds that exist in reality are projected as entrances, or portals, in this world. But it seems this world has been connected to a world that never existed in the timeline.

Ephemera: What?? Why?

Brain: That is indeed the question… I don't know whether this was arranged in advance. We won't have enough clues unless we investigate the world that has been connected to this place.

Ephemera: That makes sense…

Brain: For now, the abnormality is occurring because we're connected to that world. It was impossible to close the connection completely, so I was only able to stabilize things for the time being…

It seems we have no choice but to go check out that world.

Ven: Huh? You mean, go in?

Brain: Yeah.

Ephemera: Okay. I'll go check it out.

Ven: What!?

Brain: I thought you'd say that. But, if something happens to you in there, Mister Leader, everyone's going to be in trouble.

Don't you think it'd be better to send one of our Dandelion members? That's how missions work, right?

(Everyone looks at Player.)

Player, pointing at themselves: !?

(Chirithy isn't having it and starts giving Brain a piece of his mind.)

Chirithy: It's way too soon to—

(He gets cut off by Ephemera, who appears to echo Chirithy's thoughts.)

Ephemera: It's way too soon, it's dangerous.

Brain: What do you think?

Player: I'll go.

Chirithy & Ephemera: What!?

Brain: It'll be fine. For now, if you can secure the route, I should be able to lock down a single entry point. If we can do that, I think we can send more members in right away.

(Ephemera runs towards Player.)

Ephemera: But that's even more reason for me to be the one to—

(Player reassures him.)

Ephemera: Player...

(Brain preps the route.)

Brain: All right then, the two of you. Go secure the route together.

(Everyone's satisfied.)

Brain: What a nice friendship. I must say, I'm jealous. 

Make sure to come back right away if there's any danger.

(A giant portal appears out of data.)

Brain: Hurry, it's still unstable.

(Ephemera and Player enter the route.)

Ephemera: It feels different from the usual passages, doesn't it?

Chirithy: Maybe we're already in the new world?

(They proceed along but quickly run into Heartless.)

Chirithy: Wah!! They're here too??

Ephemera: Let's push on!
(Ephemera and Player continue along the route to the new world, until another Darkling obstructs their path.)

Darkling: Y o u a r e d i f f e r e n t…

Player: Another one?

Ephemera: Here it comes!

(Player and Ephemera beat back the Darkling, but it runs out into the new world.)

Ephemera: Let's go after it!

(The two chase after the Darkling and find themselves in a new world.)

Ephemera: This is…

(Camera pans back to reveal Game Central Station, from Wreck-It-Ralph.)
Last edited: