It is unknown just how far into production Kingdom Hearts 3 is. Many can guess it is further than we think while others believe it still has a long way to go. One of the past indicators for judging when a game was nearing the end of it's development was when voice actor leaks would occur. Most of these leaks were straight from the mouth of the Roxas / Ventus voice actor Jesse McCartney, however lately it has been the Disney side of Kingdom Hearts that have hinted that recording for the game has been an ongoing process for quite a while now.
While Bill Farmer (Goofy) and Jim Cummings (Pete, Winnie the Pooh, and Tigger too) say they've previously done work for Kingdom Hearts 3, it seems Steve Burton, the voice of Final Fantasy VII's Cloud, asserts that he will be doing some work on Kingdom Hearts 3 in the coming weeks.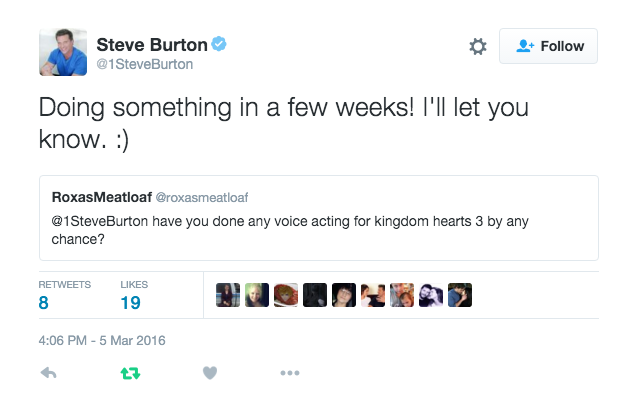 While it was likely to believe that Bill and Jim's work were for previous games, despite Jim specifically calling out Winnie the Pooh, it's interesting to note that Steve's response is directly to being asked about Kingdom Hearts 3 and saying that it is about to happen.
Of course there is the ever-more likely chance for Steve going in to record lines for Final Fantasy VII Remake instead, where it should have a trailer at E3 in June this year.
Follow Kingdom Hearts Insider on Facebook, Twitter, and Tumblr for the latest updates on Kingdom Hearts 3, Kingdom Hearts HD 2.8 Final Chapter Prologue and all things Kingdom Hearts!