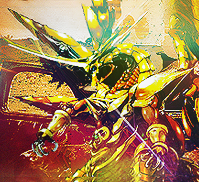 doWnloAd ProgoNOSKES 99% cOMplETeD
Joined

May 10, 2006
Messages

11,535
Awards

8
Location
Website
Merr.

For countless millenia it had been a place that had seemingly vanished into the deep blue of the oceans and never had been seen again. It had now been only a short 13 days since the earthquake that had changed the face of the world, causing an oddity that had caused Merr to resurface, or rather partially resurface so that the other continents could have access to it. Where Zero Ark floated more than 20,000 feet in the sky, held up by an unknown force, Merr was located at the edges of where Zero Ark would be if it wasn't in the sky. Scientists and those whom manipulated magic and worshiped Gods all had varying theories to the meaning of this but nothing solid had been proven, so speculations were all that was available.

Corbinek Zelkonis; Leader of Zero Ark had quite a bit of work set out for him. He'd been recently bombarded by requests to start exploration and possible invasion of Merr. The uproar of different opinions from the high council about how to go about this was an issue that Corbinek felt bad about. He'd decided to take some time off from his duties as Continental leader and leave the fate of the continent he'd been maintaining for hundreds of years to his lover(also of more than a hundred years) Uron Zeal. Within a week of Merr arising from the murky depths, Corbinek's stress level had increased dramatically. There were far too many problems with that place, most forms of technology from the other continents didn't work once entering the valley which led into Merr. What was worse, there was a rush of idiots and geniuses alike wanting to go to Merr to explore its supposed long lost secrets. Drama and violence were becoming more and more common on the streets in a lot of places, though at the moment only Zero Ark was the place that Corbinek really had to worry about, and that was definitely saying quite a bit in the light of things. He probably should have been enjoying the start of his little vacation of sorts, but his responsibility for zero Ark and all that his job as leader entailed laid heavy on his mind.

"Oh man. This is just too much, I gotta get out of here. I remember the time right after the war ended when there was so much to do and I wasn't worrying about a calamity happening right beyond my doorstep." This was kind of pointless to say aloud, especially since Corbinek had yet to leave Cubia Beta, but it was still insinuated due to the fact that his duties for the time being were already within Uron's hands. "I'll just go visit the lagoon, I always feel at peace there."

Across the way, all Corbinek could see the expanse of Cubia Beta in all of its artificial glory. The place was beautiful and Corbinek had grown accustomed to the lights during the night, but he was in a thoughtful mood, he decided to leave after bidding Uron a sweet goodbye, Corbinek took to the skies and flew off through the night toward Transit Lagoon....

~~~~~

It had only been about 20 hours, and already Corbinek felt like going back to the Icon Tower. He knew that everything was going fine but already he was feeling heartsick, and missed Uron. Time spent away from his husband made Corbinek's heart ache a lot more than he'd expected it to. Corbinek always knew that over the years they had been together that the connection between them was strong, but he never realized how strong it was until the moment his heart felt as if it was empty. "I am almost amused with myself. I'm supposed to be this strong leader, and I am away from my love for a day, and now look at me." Corbinek sat and felt the area around him. The wilderness was very soothing, the feeling and flow of nature in this place was able to cause a serenity within Corbinek like no other place he'd been to on the planet but something didn't seem right. It was almost as if the fabric of nature had been poisoned. "What is going on here?? The beauty of this place has been disturbed a great deal. Uron what would say if you saw this?? I know this is our favorite place to be together, such sorrow that this strange mist now flows through this wildlife."

Corbinek sighed, and crouched on the ground, at the edge of a murky lake as the water frothed and a set of antennae emerged. Corbinek laughed as the small creature came all the way out. It was a Snurdle, one of the most adorable swamp creatures ever. They were very carefree, and this one looked like it was ever more carefree than most. For a few moments the creature stayed on the edge of the swampy waters with its eyes closed. It didn't notice Corbinek at first, and its furred little body, surprisingly not dirty, or wet walked slowly around, and looked up, finally looking at Corbinek, and blinking innocently. "How cute, I really love these lil guys." The Snurdle heard what he said, and chittered, running closer to Corbinek, and jumped onto his lap. He petted the animal and then looked down to see an entire pack of the animals around the lake watching.

"CHEEED…….CHEEED!!!" The snurdles were excited. It must have been a while since they had a visitor, and these animals always loved company. It was getting dark in this part of the world, and through the mist, Cobinek could make out a patch of stars. It was quite the sight.
Last edited: