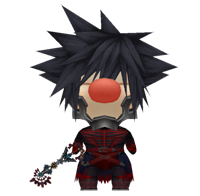 Joined

Feb 9, 2009
Messages

1,210
Awards

2
Also, how do you know Riku never went through an awakening? Before Sora stole it from him, Riku was going to receive the KK, which I'd bet, assuming it applies to everyone, means he'd already gone through one before then.
Lol, another misunderstanding. I was pointing out that the Keyblade chose Sora over Riku because of his descent to darkness. Riku was not on the path to darkness before the destruction of Destiny Islands, so he could have gone through the Awakening before.
Xehanort on the other hand was found, taken in by Ansem and immediately became his apperentice the moment he's nursed back to health. Delving into Ansem's research must have caused his hunger for power and knowledge grow, so he was already on the path to darkness. Thus, the Keyblade or whoever controls such things probably deem him weak for giving in and he did not go through an Awakening despite having gone through one before as a Keyblade wielder in the past. Roxas could go through it again in the Simulated Twilight Town because he had already inherited the ability from Sora, and because as a Nobody, the requirements for strength of heart did not apply to him. So basically, even if his memory was altered again and again, his heart would not be a determining factor for him to regain his Keyblade, so he'll never really lose that ability.