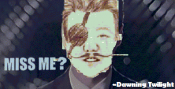 Joined

Jun 6, 2005
Messages

8,020
Age

34
Shin calmed himself as he took a deep breath and closed his eyes, as the Maoh grew closer to him. Slowly Shin opened his eyes as he focused with all his might. Suddenly Shin vanished as the Maoh flew past where he had previously been. Adele looked around confused. Suddenly Shin reappeared behind her.

"You forgot. I haven't used my power yet," Shin said.

Adele turned around to meet Shin's left fist as it slammed into her rib cage and threw her onto her back as she slammed into the ground with a loud crash! The Maoh crashed through a few trees as it vanished with Adele's power now released. Shin slowly stood up right and stared down at her. His left arm throbbed now. The pain from the earlier Maoh attack had been a seriously dangerous hit. Had he been fully exposed to the attack, it most likely would have been over for him. Luckily it wasn't.

Adele lay still for a moment as she took a few deep breaths to regain some energy as she filtered it through her body and with some difficulty managed to stand up. Shin stared at her. She was obviously not a weak opponent. Perhaps he had been underestimating her. But now it would certainly end. Now that he was using his power she would lose the match.

"How did you dodge my attack? That was too fast even for you," Adele said.

"You noticed my change in "speed" did you? Impressive in a way," Shin replied.

"What do you mean "in a way," Adele asked.

"My speed never changed at all. I've been moving at the same abilities of speed I displayed earlier in our match. I haven't been holding back either. So then the question arises. What could be going on if his speed hasn't increased? Do you know the answer yet," Shin asked.

Adele stared at him confused. He didn't speed up? What was it then? No changed in speed. He's been moving at maximum. So what was it? What could he have done to affect her vision of him, could he have made himself invisible, no that didn't account for the short amount of time that he'd shown up and surprised her from behind, so then what was it? …Wait! That was it! He'd fooled her with his appearance and disappearance but it wasn't thanks to his physical speed at all.

"You have the power to change time for yourself," Adele said.

"Precisely, my power is the power to turn 1 second into 15 seconds. Added to my already superior speeds and martial arts I am capable of appearing as though I have superhuman speed. When actually time for me is just slower than time for you," Shin explained.

"Well I guess it's over then. I don't have any other attacks or secrets. I'm clean out," Adele explained.

Shin turned as he looked down at his left arm again. That last Maoh had just skinned him and yet it had done so much damage. Shin couldn't take a direct hit. But that wouldn't be a problem to Shin he'd seen hers once so dodging it wouldn't be terribly difficult and only scrapes like the last one wouldn't defeat him. However her power that she had received from her God Candidate would make things far more difficult. There was a more simplistic solution.

"This battle of ours will end here for now," Shin said.

"Wait? You're just gonna leave it at that," Adele asked confused.

"Yes, clearly neither of us would win without sustaining massive injuries. This battle will continue when we meet again," Shin answered.

"In the second part of the tournament," Adele asked.

"Perhaps, if we meet there as challengers that could be the case," Shin said as he turned. "Should we meet again I expect you'll be much stronger."

"I'll obtain my level 2 by then. Don't worry," Adele replied smiling.

"You remind me of him," Shin said as he walked away.

It was obvious who she reminded him of. He had rubbed off on her in their battle. Sung Gi Chin, she had learned a lot from him. Without their battle, fighting Shin would have been disastrous. Watching Shin leave Adele smiled as she turned to leave as well. As the two left the scenery a figure walked upon the scene of the battle looking down the figure assessed quickly the battle before smiling. Looking up at the sky as the figure's red eyes shimmered against the fading sunlight.

"Everything is moving just like I planned," the figure said a large smile across its face as it left walking off into the distance away from the battlefield.