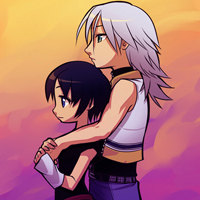 Joined

Jan 31, 2008
Messages

16,306
Awards

5
Age

37
Location
Website
Never trust an anime to teach you Japanese. :X Especially if it's an English dub. Not that I think you're really trying to learn Japanese that way, but yeah... /shuts up.
Never watched an episode of the Naruto dub in my life.
I hadn't heard of that one. /facepalm That's pretty good, even if it doesn't allow for such awesome in-depth crap like Ino.
Yet it adds up with Xehanort's name having a similar anagram, and him being an odd type of existence as well, before we go into him splitting into a Heartless and a Nobody.
Xemnas being the one that brought her in works with this too. He knows what she is and what her true purpose is. Him and Saix discuss her performance in what seems to be extremely meaningful manner.
I truly don't think Xion's Organization name is any hint at all. Namine's name was more of a giveaway with the meaning of Wave in it, but Xion has none of that.