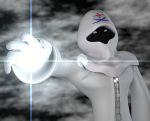 Joined

Apr 21, 2005
Messages

5,800
Awards

2
Age

29
Location
>:C DON'T. INSULT. LYCORIS.

And actually, it IS a decent comparison. =/

KH = The Heart of All Hearts/Worlds/People, etc
Sora = "The Boy Who Can Connect His Heart To Anyone"

Funny, Ansem The Wise seems to support Lycoris' idea. =/
Nomura already confirmed that ANYONE can connect thier hearts to ANYONE. Vanitas and Ventus connected their hearts, Terra and Xehanort connected their hearts. ANYONE CAN DO IT.
And Nomura ALSO said that Sora is a NORMAL BOY WHO ISN'T SPECIAL.
You truly say it's a decent comparison?
Barrack Obama: President of the United States
Hell: The place Satan lives in.
Oh yeah, I can TOTALLY see why comparing Sora to KH is "decent" -_-
Since you're using words from Ansem the Wise, I'll use some too:
"I'm afraid that any theory of your's is like an empire of ignorance!"
this "The new secret boss is KH" theory sounds plausible, but if it is true why would Sora's theme be in its battle music? (again, I still don't hear it but assuming it's hidden in there)
It isn't there. They're hearing things because they're trying too hard to connect this boss to something when there is no connection at all.