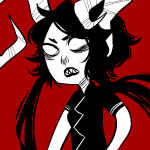 Joined

May 17, 2007
Messages

6,355
Age

30
Location
Here we are, the exciting Part 1.5 that everyone's been waiting for! What could happen? Who knows. I know there have been a lot of theories out there on what this could have to do with the epic story I have been composing.
Annnnnd yes correct good job everyone in guessing correctly it's a Keyblade War fic.
lolyes you can leave now
Let me just tell you all that this is a totally easy-going and fun story not meant to at all coincide with the plot of The ORG but it's just in the title to clarify that I am still thinking of it. I just really wanted to get this out, it's officially been more than a year since I first had the idea to write this. Think of this like that Homestuck Intermission. Remember how it felt so fresh but kind of similar but it was still new? This is completely like that. Entirely and completely just like that.
I
Drifting among the Realm of Light was a world not so different from the hundreds of others scattered in the vastness of the lanes between. Its air was humid, with hills which rose and fell with gentle slopes. A castle sat atop the highest of the mounds, shinning like a beacon with towers of gold. Clouds were splotched in the sky, sending beams of sunlight in sporadic directions. They bounced off the walls, causing it to glimmer. Its gothic architecture cast thin, wavy shadows. There was the impression of perpetually twilight. The grounds were matted with thick, green grass, consistently coated in dew and moisture from a recent rain. From far away the droplets twinkled, making the hills appear as rolling waves.
Directly outside the castle, however, it was much flatter. There were fields; strips of land sectioned out with rectangular markings. Fifty or so people were stationed at them, standing in positions or hacking at each other with large, key-shaped swords. Most of them were young students, Keyblade Masters in-training. A handful of others were their elders and more advanced students, demonstrating and honing their skills even further. The teenagers who fought had their sparring areas separated by invisible, magical walls conjured by their superiors. Bits of debris would occasionally fly up and hit them, making ripples in the air.
A girl watched the novice warriors as she walked up the path to the castle. Her origin was not of Valhalla; rather she traveled quite a distance by Keyblade. A wide cloak hovered behind her in a gentle breeze like a cape. It was bundled up around her neck, sitting on her shoulders like a scarf or baggy hood; said hood covered her head, for she found the wind too brisk; it did not help that her clothes underneath were fairly light. Shorts and a sleeveless shirt offered little protection from the elements. The billowing movements of her cloak revealed portions of metal armor underneath. Her legs were covered up to the knee, as well as her entire left arm up to the shoulder. All of the pieces were of a bronze and dark red color scheme, and clanked with every step.
Despite being not being a citizen, she was familiar with the world and its inhabitants though had not visited in quite some time. Her business had mostly to do with a close friend, one of the greater Keyblade apprentices and Master-to-be, as was herself.
Her hands went to her hood and pulled it back, revealing her bright green eyes and long rust-colored hair that had been bunched up. A pair of guards at the high gate recognized her and let her through without any words exchanged, leaving the girl to navigate the empty, velvet-lain halls alone. Despite the cool, open atmosphere outside, it was much stuffier in the castle. Everything looked like it could be stained if she touched it. She noticed that the whole place was far less populated than she remembered; even on the training grounds, the teachers were instructing far fewer students. Was something going on? Her friend must have an answer.
She went off into a smaller corridor, the sound of her metal boots muffled on the carpet. There was little natural light, so the place was illuminated mostly by dim torches. Not too practical, but it gave the castle a warm glow that she always admired. Up ahead, a thick door opened, and someone walked out. A pair of piercing yellow eyes was visible from the opposite end of the hallway, for they lit up even more when they saw the girl. His hair was a white sheet against the torchlight; it was really a very light blond, and when he made a double-take, its length tussled. They ran to each other in a long-awaited embrace.
"Minerva, what are you doing around here?" He asked, grinning widely. When they backed up from each other, he jokingly put his hand to her cheek, assuring that she was real.
"Oh, you know," she smiled back, looking down at him. They were the same age, teetering on adulthood, but it was more than the armor giving her the height advantage. "On a routine run and I noticed I had some time to make a quick stop."
"Great, that's great! Come on, we need to catch up. You haven't written in, what, a week?" They finally stopped clinging to the other and started walking. Without any destination in mind, they went in circles for a few minutes, exchanging pleasantries. Both of them were trained in diplomatic behaviors; small talk was a basic routine pounded into their heads. After a few minutes, Minerva brought up her pressing question.
"It's pretty empty. What's that all about?" Her time in the castle only confirmed her suspicions; she had heard, what, a couple doors shut in the distance?
"Lot of people were shipped off recently." He sighed, "Some missions off on other worlds. Master said it has to do with that war that's been rumored." Minerva could tell he regarded the empty halls, or the stories of warfare, with contempt.
"My brother went too." He added on.
"Thor? He's got to be too young for that."
"He's older than me. Older than us." He sighed, with hints of bitterness. Minerva put an arm around his shoulders.
"You're not okay with it, huh?"
"Yeah, uh, it's…" If there was any topic to ruin his mood, it was that. "I guess it's something we could talk about later. I won't want to drag you down." She admired his commitment to enjoying their time together.
"Missed you, Gren." She said, which gave him some comfort. "But, I don't have long, you know." He slouched, looking disappointed and tense.
"Well, then we should have you say hello to Master Odin or something before I steal your visit."
Moving back outside, the sun felt a lot brighter than it had before, thanks to the musty old building. The humidity bothered Minerva the most, and she tugged at the cowl wrapped around her neck. Sweat had collected on her forehead. Gren nudged her with his elbow.
"You love to overdress."
He was one to talk. His clothes looked regal, to put it lightly, with an embroidered green coat going past his waste hung over a delicate black shirt. Both of them had bits of fanciful designs in gold. His black pants were slightly puffed, cutting off at the knee where his stockings were pulled up to. Minerva assumed, however, that he was referring to the armor she wore casually, not just the bundled-up rags. The only metal Gren had on his body was a pair of silver boots and spiked belt.
"Well, Master Lucem just taught us to be prepared. Besides, how do you know I wasn't just out there doing some fighting of my own?"
"Psh." He brushed off the idea. "We have the most boring jobs, are you kidding me? Maybe if you got sent to have a heated argument, I'd believe the kneepads. I think you're just showing off."
They went along to the fields on which dozens of apprentices sparred and trained and watched their instructors demonstrate proper fighting styles and stances. The students were learning techniques from magic-using, to transforming their Keyblades to new forms, to simply trying to summon their weapons without falling over. The makeshift arenas were lined up in a long row; at the end of one of rectangles near the middle, an especially old man watched two apprentices duel through a single eye. From where they walked, Minerva immediately recognized Master Odin from his eye patch and long, white beard. His hair was very similar to Gren's, with its slight bob, but it was graying. Gren raised a hand to catch his attention, but the Master did not remove his focus from the students.
"Ah, he probably knew we were coming, you know how he is."
"Always used to mess with us, saying he could tell the future." Minerva recalled, rolling her eyes. Master Odin's mannerisms were always tantamount to a comical grandfather when they were young.
Minerva noticed how young everyone was. Gren was probably the oldest apprentice she had seen.
"Has it just been the older students leaving? Around the age you take the Mark of Mastery?"
"Maybe." Gren pondered, "Thor took his a couple of weeks before he left. For the most part I've been working with these guys lately, though, so I haven't been paying much mind to anyone that's gone through puberty."
As they came around the field, the students sitting on the sidelines looked up curiously at the woman at side of their friend. Most of them had no recollection of her. Gren bowed his head to Master Odin, who finally acknowledged them. He was dressed less formally than Gren, but by all means looked the role of a distinguished Keyblade Master. His attire consistent of long, pale robes that nearly touched the ground, with the only bit of armor visible was a pearly white chest plate. Upon approaching him, though, it appeared his eye patch was covered in ornate metal decals. Minerva appreciated the accessory as Gren moved ahead of her.
"Master." Gren greeted, bowing his head. "Look who came to visit."
Minerva stepped up to his side and smiled. Master Odin's whiskers shifted in a warm response.
"Thought you'd forgotten us." He chuckled.
"Well, between a few postal runs this place may have slipped my mind." The three of them laughed. Master Odin was not quite a grandparent to Minerva; If Gren was comparable to her brother than he was like a step-father of sorts. The reunion was more joyous than she let on, but she felt too relaxed around her family to act more excitedly.
"I was just giving Minerva the full tour," Gren explained, "since so much has changed."
"I hardly recognize the place."
"We cleaned the carpets."
"My feet had to become re-accustomed. Such a pain."
"Gracious, I hope your stay isn't quite long-lasted," remarked the Master, "I don't think anyone here is used to this level of frivolousness."
"Perhaps it'll get the kids to step it up," Minerva quipped, raising an eyebrow towards them. The group straightened out once attention was placed back on them; proper postures were found and silence took them.
"This was our next stop, after all," Gren called out to the younger ones, taunting, "and I thought you could all show Minerva what you've learned?" They stirred anxiously.
"Now, Gren, this is the first field experience some of them have received," Master Odin reminded. "Don't go putting pressure on them."
His defense actually prompted some whines from the pre-teens who wanted to show off.
"Maybe you could give a demonstration instead, you two?" The Master suggested. While Minerva and Gren had made prior plans to engage in their feeling, they eagerly took the opportunity to duel and ran out to the arena without a word.
Sure they wanted to bond over some emotional conversation, but hey were students of an order of ancient warriors. Sparring was one of the few things that brought them closer than ever, and it had been forever since their last fight. Not to mention they wanted to show off everything they had learned in the past few months during which they had not seen each other.
Minerva held her hand out to her side, and summoned her Keyblade. The hilt was crimson and curved, like an upside-down heart, and a star-shaped Keychain hanging off the end. The whole weapon, tannish-gold, matching her armor, was wide, narrowing to three rectangular teeth that frayed out like the spokes of a wheel. Despite the broad design, she held it with ease in a single hand, swinging it back and forth a few times to test her grip.
She placed her hand to her shoulder pad, and the rest of her armor appeared on her body in a flash of light. Her left arm now matched the right, and sleek, slimming metal now covered her thighs and torso. Sections of her limbs that required more flexibility were protected by thin chainmail. Minerva's head was covered by a helmet which pointed in the front thanks to an angular visor that hid her eyes. The glass was black while the rest of the armor was gold like the rest of her. On the side of her head stuck up two rectangular, metal fins that could be described as bunny ear-like, which proved to make the get-up pretty intimidating somehow. Armor for Keyblade wielders was meant to allow for as much movement as possible in the arms for maximum reach with a blade. Allegedly the fins had some relation to helping a wielder keep balance while flying on their Keyblade's glider form, though Minerva always hated the extra wind resistance.
Gren's armor showed off his svelte frame under the cushy clothing. Black and green plating slid down his chest and legs like liquid, enough so that it appeared he was wearing a tight-fitting suit. More of the black under-armor was prevalent, to give him a wider range of motion for the techniques he typically employed. There were bits of silver that stuck out in places, though; his shoulders and elbows and belt were viciously spiked. The ears on his helmet, stouter and more fanned-out, topped off his uniform with green.
It was a color scheme that stuck with his Keyblade; a spiny-looking hilt from which an eye-shaped Keychain dangled, as well as a jagged shaft of black and green. The teeth resulted from a sharply-pointed star overlaid with a wicked, draconic eye. When anyone thought of a Keyblade academy that produced wielders prominent in dark magic, Gren's armor and weapon was the type that came to mind. The hype they were setting up ultimately meant nothing, though. They knew what their impressive armor and weapons looked like. What mattered was what they did with them.
Minerva dashed and jabbed, drove her Keyblade forward. Gren strafed to his left and swung his blade upward to deflect the attack. With his weapon now above her, he put his other hand to it and pulled it down like a sledgehammer. Minerva's leg bent as she braced herself, meeting Gren's Keyblade with her own in a resounding clash of steel. Both of them pushed hard, expelling their strength to overpower each other. It was a test of stamina. The contest was a way of bonding. Minerva slammed her palm upward to the shaft of her Keyblade, shoving Gren off and allowing her to back up and regain her composure. With a long step, she lunged, swinging downward as Gren had done. He dodged once again, hopping back, and Minerva's Keyblade cleaved into the mud.
She yanked it out, and they put distance between themselves once more, circling each other slowly. This time, Gren ran forward, keeping low, and feigning an attack to the legs. He successfully faked her out and rammed his elbow into Minerva's stomach when she slid a foot back. He managed to lift her from the impact, knocking the air out of her. It was sneaky of him to be so hands-on when he made it look like they were just going to show off Keyblade techniques. Her boots skidded back to the grass, and Minerva shoved her knee at his thigh, making him lose balance and stumble. Half-kneeling, he found himself in the same position Minerva was before; desperately trying to keep her weight off of him.
He made the first move in mixing up the competition. They were too evenly-match and would probably end up getting in similar positions over and over without some variable. Gren had a hand on each end of his Keyblade; gripping both parts tightly, the weapon's openings and gaps melded together as though it were melting. With a decisive pull, his Keyblade snapped in half, forming a sharp dagger wielded in each fist. The release of energy from the break pushed Minerva back. She was surprised, but not so much that she could not block in incoming stab. The following one, swiping at her side, caused her to jump away, though. Alright, she knew how to handle this.
With both hands on the hilt, hey Keyblade "melted" down as well, amassing in two globs on each hand. The liquid crept up her forearms and solidified, forming two blocky gauntlets. Sticking out from the elbow were long spikes, squared at the ends, similar to her helmet fins. Her fists were three times as large and hard as iron. Gren decided not to give her time to get used to how they felt, though, and thrust one of his daggers at her chest with the grace of a seasoned fencer. Not caring to dodge, Minerva grabbed the blade before it came too close. She wrenched it out of his hand and tossed it behind her, where it landed with a thud, and threw the other fist at Gren's head like a wrecking ball.
Gren ducked. He stabbed, but she dodged. Minerva punched again and again, but to no avail. They were fighting with light weapons and they were both young, nimble combatants. And showing off that swiftness, Gren backed up when he avoided a particularly forceful jab. The dagger he held grew longer, turning to snake-like putty and hardening once its length was twice his height. The amorphous Keyblade hardened, forming small, triangle chain links, at the end of which was a black shuriken. Gren gave it a test swing and spun around, making it whirl through the air. He made it twirl around his rotating form with expertise, so that when the whip came slinking to Minerva's feet she barely had time to notice. It wrapped around her ankle; Gren yanked it and she began to lose balance.
Slamming her hands together, her gauntlets melted into a single, long blob. It looked as though it was turning back into her Keyblade, but this incarnation of her weapon was far bigger; much more lumbering. It was skinnier, though its top was a heavy, studded block. Keeping her ground, Minerva swung her newly-formed hammer on the chain, hoping to break it. Gren released his hold on her just in time, though, and as Minerva heaved the mallet from the ground, the whip came once more and tangled itself around the handle. They proceeded to have a short round of tug-of-war before Gren put his hand to the chain and tried reeling his friend towards him. Minerva gladly obliged; hobbling forward and swinging the hammer at his chest. He predicted her aggression but not the weight of the weapon; he was nearly knocked backwards and ended up struggling to stand with the hilt of the hammer at his throat. Minerva laughed triumphantly behind her helmet, savoring the victory.
Something poked at the mail on her neck. She noticed Gren's arm stretched around behind her. He poked at the mail with the tip of the dagger she had apprehended earlier; it had returned to his grasp with the flex of his wrist. The visor flipped up; Minerva saw his cheeks raised; he was smiling wide underneath his helmet.
"Draw?" He asked with a sarcastic inflection.
"Just because I got careless." She replied, snickering, with her emerald eyes appearing in the open. The dagger disappeared in a flash, as did the hammer. Minerva had Gren arched uncomfortably backwards under her, so she took him by the arm and pulled him up.
The students applauded but were rambunctious about who the winner was, which was really all they cared about. Their inexperience had them caught up in the action too much to admire their respect. Master Odin quieted and dismissed the children, leaving the three to some privacy.
"I'm glad you two were able to have that moment," he said, walking between them and putting a hand on Gren's shoulder. "But as much as I'd like you to have a little more time together, I'm afraid I really must have Gren to myself for the rest of the day."
Neither had expected that. Both thought they would get to use of what little time Minerva had left to spare but sadly it all would have to end prematurely. It would come off as rude to speak against Master Odin; Minerva's visit was the variable in everything.
"It's no problem at all," Minerva said, lying more than a little. It would have been nicer to have left on her terms.
"You know I'll be here next time you're free," Gren assured her, "or bored." The smile that accompanied that last part was more childlike and devious. She matched it with her own.
"Hoping those two will line up."
"You're always welcome." Master Odin told her. "This was just a case of unfortunate timing."
"I understand, Master. It happens."
"I'll be in my study, Gren. You can say your farewells." He started towards the castle, and turned, "I'm looking forward to seeing you again, Minerva. Make sure to give Lucem my regards. I suppose I owe her a trip to Roma, now?"
"I'll hold you to that." She smirked. The two Masters were old friends; it was the primary reason she and Gren grew up so closely.
"Yes, yes. Good seeing you, Minerva."
"Goodbye, Master," she bid, waving. Once he was out of earshot, she cocked her head towards Gren, "He was in a hurry."
"It's nothing, don't worry." Gren mumbled.
"Damn, I should have asked about the absences. Maybe he would know more? Did you ever ask him yourself?
"Really- no, I haven't, don't worry." He had a disturbing lack of eye contact with her.
"You're being kind of defensive."
"No, I, uh, just don't want you to be too concerned. I live here, I'd know if something bad was up. I got your back, I'll keep you informed."
Minerva trusted him enough to take solace in his words.
"Alright, but just say something if anything seems wrong."
"You know I will," he sighed, looking up at the tower he knew housed Master Odin. "Oh, that reminds me."
Gren dug into a pocket on his shirt, and pulled out a pair of small, star-shaped charms attached to string loops.
"Something for good luck? I didn't know you were so superstitious."
He shook his head, and separated them into each hand. "You should know that I am, but no, these are something more special. Real, legitimate, magical artifacts."
"Sure they are."
"Just look."
The charms were tiny pieces of art. The stars were semi-transparent, as though they were made out of colored glass. One was red while the other was green. Gren held up to her the one that matched the color of her armor and Minerva picked it up by the string. She admired the way it caught the light and glimmered as it twirled at the end of the necklace.
"Wayfinders," he explained, holding up his own, "they're hard to make but it's worth us holding onto them."
"I've heard of things like these. They're supposed to let us communicate with each other, right?"
"Kind of. It's more of an internal thing. See how they glow? It's a spell. They glow brighter the closer they are to each other, and if we really need to talk, or reach out, or something, they'll start to get brighter and hum and all sorts of flashy effects."
"Is it effective at long distance?" She asked.
"Should be. It taps into your heart and connects to the people closest to you."
"That's…sweet," she commented, eyeing it incredulously "long as it doesn't hurt."
"Better than writing now and then, or dropping by unannounced. You know how that can backfire."
They laughed together, again, and did so as long as they could. When it became too difficult to keep that going, they hugged each other tightly as they had done before, both a little bothered that they lost the chance to talk more.
"You're probably going to see yours light up soon." She said into his shoulder. When they parted she looked down to the Wayfinder and saw it already radiating a warm, crimson glow.
"You'll get distracted with your duties, I'm sure; they've kept you so busy lately anyway."
"Maybe. Keep an eye out, though."
"You know I will. I'll miss you."
"Me too."
Minerva tucked the trinket into her pocket, and hugged her friend once more before walking away. She watched Gren return to the castle behind her, and when she was sure he was gone, took out the Wayfinder and looked over it just a few more times, further enjoying its beauty. Had he been working on it for long? It soothed her heart to think how long the sentiment would last. Minerva mounted her glider, a wheel-less, bicycle-shaped transformation of her Keyblade, and flew off in the same fashion she had arrived, headed for her home world.
Last edited: