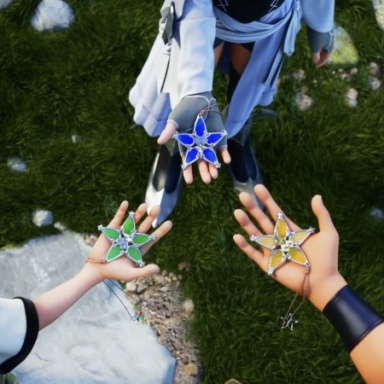 Joined

Jun 25, 2018
Messages

202
Awards

15
Location
Within the newest trailer, we see the return of the restoration committee (or at the very least three of its members) and they appear to be residing in Merlin's house. One of the big things that didn't really make sense during KH3 was why on earth Merlin would be in Twilight Town leisurely enjoying a cup of tea whilst he is supposed to be in charge of training two of the seven GoL meant to halt the quickly approaching war. This bothers me for two reasons, one being that I wanted to be able to return to Radiant Garden, and two being that it doesn't flow at all with what was pre-established.

Now we get to see the place where Merlin SHOULD have been encountered during KH3 and we are also remeeting characters that would've been around to meet Kairi and Lea when they were undergoing training. I am really hoping that ReMind is going to in someway acknowledge this or try to provide an explanation as to why Merlin is in TT when he is tasked with such an important job. It was already silly enough having him be in TT as an excuse to not need RG be a playable world but still shove the 100 Acre Wood into the game anyways.

My hopes are that either some slight altercations to the main story take place expanding on Kairi and Lea's training (which would help emphasize Kairi's sudden strength being displayed during her playable section that is most definitely not on display when she is a party member for 0.5 seconds in KG) and that this expansion will include Merlin or Radiant Garden in some way or when Riku visits RG specifically to see the Restoration Committee the topic of events that took place in that world will be brought up in way that explains what they were up to whilst Ansem's apprentices regained control of the castle and Kairi and Lea become apprentices under Merlin since ya know.. THERE IN HIS HOUSE. The trailer showed no signs of Cloud, Tifa, or Cid so I am assuming they aren't showing up until proven otherwise, but at the very least please mention that they exist as well to avoid making the same mistake removing FF characters was to begin with. All in all the FF gang's inclusion is going to feel strange if it is included in way that makes it seem like they popped back into existence post Keyblade War. (Since from a production standpoint thats literally what's happening)

Also has Riku ever met any of these characters before? I can't remember a time when he would have.