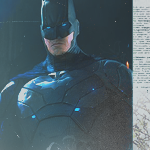 Joined

Aug 20, 2005
Messages

5,087
ok this is how it works i'll do the main story first and u can add whatever u want on.
A New Begining​
Sora: Ow!!! We're practicing not trying to kill each other
Kairi: Sorry! I lost focus and...
Sora: It's okay, just try again. Focus on me and say Fire.
Kairi closes here eyes and begin to say the word when Riku walks out on to the beach.
Riku: You guys still practicing?
Kairi: Oh! Hi Riku!
Sora: Kairi, NNNOOO!!!
But Sora was too late. Kairi shot a blast of fire at Riku, sending him flying a yard into the air.
Kairi: Sorry Riku!!!
Sora: I think that's enough for today. We gotta get Potions and stuff for the trip tomorrow. Riku did you bring the Munny?
Riku got up dusting himself off.
Riku: Yeah, it's right here in my pocket. 10 million munny.
A gummi ship lands on the beach yards away from Riku. A person walks off the ship the sunlight hits the shadowy figures face
Kairi: Hey guys look! It's Naruto!
Sora and Riku: Nauto?!?!?! What's he doin' here so early.
Naruto: Hey! The King said we have to leave early. Things are worse than he thought!
Sora: What be we didn't even buy our prevision yet.
Riku: That's okay. i always bring back up stuff from home
Sora: Yeah, guess we could use the stuff we have on us.
Naruto: Well what are you waiting for? Sasuke and the others are on the ship waiting.
The four friends chat on the way to the ship when somone walks off the to greet them
Sakura: Kairi, Sora, Riku!
Kairi: Sakura!
Kairi and Sakura hug.
Kairi: Where's Sasuke and Luffy?
Sakura: They're on the ship.
Eveyone boards the ship as it takes off in to the blue sky.
ok eveyone now it's your turn! have fun and be creative. i will add on at some point but for now i leave it in your hands:thumbsup:
Last edited: