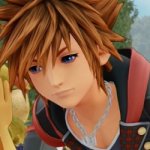 Joined

Apr 7, 2005
Messages

3,879
Location
Should welcome our new members with some Riku. Welcome to you all!!! <3

Slow mo Riku.

More shots of his awesomeness.

And more~

And one more.

Aaaah, perfection.

Man, does anyone else notice the differences of Riku's look (not just his hair and clothes) from KH2 and KH3? Like his face and what not, and I don't mean just the graphics.

I mean, he's still adorable. I guess I need to get use to Riku's new look still.

Then again it could be me.
HONESTLY ALL THE RIKUS! And by that, I just meant him. Gahhhh I just love how his hair color changes as well as the lengths too even though it's shorter in KH3 than say the other games when it's longer....almost kind of like it was in the first game but even more shorter than that.