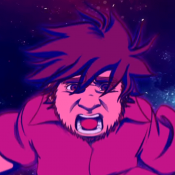 Joined

Dec 29, 2005
Messages

7,085
Awards

6
As my edit below states, this is a place to discuss music for any game series instead of just a standard "Favorite" thread.
You can talk about your favorite video game music or the music you can't stand at all. You can post remixes of music you think people will like or whatever. Anything to do with video game music (or even music not normally from video games that sounds like it is from a video game like an 8-bit version of Smooth Criminal) goes here.
I'm partial to the music in Sonic the Hedgehog 3 and the NES Castlevanias.
My favorite individual piece of music would be
King Dedede's theme
from Kirby's Dream Land.
I think that song stands out a bit due to the fact that Kirby's Dream Land was probably one of the first games I've ever beaten, so the final boss music is memorable to me in that respect.
edit: You know, I'd also like to dub this as a thread for any kind of gaming music if possible, since this is the kind of thread that gets remade every year or so.