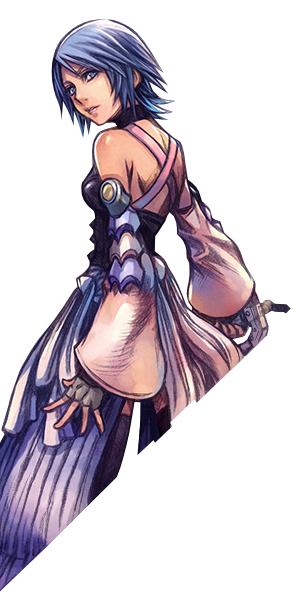 Administrator
Staff member
Joined

Sep 23, 2010
Messages

12,008
Awards

30
[FONT=wf_segoe-ui_normal]

Disclaimer to Sokai fans, this literally is in no way, shape or form, a commentary of the validity of Sokai. I beseech you to see this through objective lenses and know that I'm not interested in discrediting the ship with this theory... pls... pls.​

[/FONT]
[FONT=wf_segoe-ui_normal]
---
[/FONT]
[FONT=wf_segoe-ui_normal]
I'm of the belief that the final scene shared between Kairi and Sora has more meaning than we initially may have perceived there to be. I believe that the moment Sora lifts his hand to, what on a first viewing appeared to be a movement to grasp Kairi's hand tighter, was actually Sora possibly passing Luxord's Wildcard off to her.



[/FONT]
​
[FONT=wf_segoe-ui_normal]
[/FONT]
[FONT=wf_segoe-ui_normal]What initially made me wonder about this scene was during my second viewing of the ending, where I was struck by how odd the gesture actually was. Sora lifts his hand but doesn't grasp Kairi's hand tighter, like I initially thought. There's no argument to be had about how animating this more accurately is impossble either, in my opinion. This is the same game that delivered the jaw dropping final scenes from The Caribbean. I admit this could be nothing, but my gut tells me otherwise.

Sora knew the moment he went after her what was going to happen to him. YMX warned him; Mickey warned him. It's likely Sora knew that this was the only way to save Kairi without jeopardizing the safety of his other friends, after all.. that's not how the Power of Waking is meant to be used. From the Keyblade Graveyard and on, Sora has used the PoW to circumvent death itself.

It's common knowledge that the Secret Ending is a version of Shibuya from TWEWY universe, the 104 was a dead giveaway and Nomura in the most recent Ultimania has confirmed as much. Sora is dead; he's in the Reaper's Game. It makes sense, as much as anything in KH does. But why is Riku there? He's not dead... so that's where the Wildcard comes in.




Luxord tosses Sora a card for his triumph, one to "turn the tables" that we never see used in KH3. The most obvious assumption is that the card is going to be used to "turn the tables" of Sora's fate, to help him return to his home. The only question is how? My answer is Riku. I believe Riku uses the Wildcard as a means to access whatever worldline/dimension Sora has crossed over to, in order to bring him home. I believe Sora entrusted the card to Kairi, and she passes it to Riku knowing he's the only person determined and strong enough to bring Sora home.



[/FONT]
After a month I finally got around to posting this, thank you for coming to my Ted Talk.