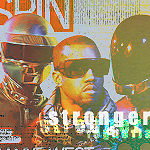 You ain't got no YEEZY!?!
Joined

Oct 5, 2005
Messages

5,680
Age

29
Location
It wasn't always like this. There was a time you could actually take your family to Disney World and not worry about the guy in the Mickey Mouse costume eating the brains of your 5-year-old. A guy could actually take a hot girl out to eat without worrying about BEING the main course. But, alas, the world has changed since then. Welcome, ladies and gents...to the Wonderful World of Zombies.
It's been three months since Patient Zero took a bite out of a contaminated whopper from Burger King, effectively starting the worst pandemic since the Black Death took a big chunk out of Europe. The infection spread throughout the entire east coast of the United States, turning nearly 36% of the nation's population to brain-hungry zombies. The government is doing the best they can with helping the survivors get out of the east coast; ammo drops, medical safehouses, and even emergency pickups by the Air Force. Even still, this is sometimes not enough to fight the endless wave of zombies. But somehow, you make do.
Somehow, you survive.
There was no end in sight. No end until your radio picked up an interesting transmission. The government has now become desperate. And desperate times call for desperate measures. They've initiated "Project Hammer Down", in which they will bomb the entire east coast in order to stop the zombies from spreading to any other parts of the United States. Now, surviving is not enough. You now have one week to get as far away from your current location as possible. But what if you meet other survivors on your journey? Well, you could always drop your belief in Darwin's survival of the fittest and possibly improve your chances by teaming up with them. Or not. Your choice.
___________________


Rules​
Please understand that this is going to be a VERY realistic role play. By this, I mean your character is expected to ACT and REACT realistically. If your character is older than 45, they should not be able to outrun zombies, due to the declining physicality that comes with getting older. If your character has never used a gun prior the the zombie apocalypse, they SHOULD NOT be able to make a perfect headshot with every kill. If a zombie pins you down, that most likely means that you're dead. If you run out of ammo, that most likely means that you're dead unless the persons traveling with you have ammo to spare.
Please be aware of how many items you carry on your person. You are only allowed as many items as your backpack can carry. The current amount of items your backpack can carry is ten, so be sure to choose your items carefully. As we pass through supermarkets, gun stores, and safehouses, you can swap out old items for new ones. But if you want to have the best chance at surviving and getting out of the east coast, I would recommend traveling light.
The starting point of this role play, FOR EVERYONE, is Baltimore, Maryland, and we will move west from there.
___________________​
Name:
Age: [The minimum age I am allowing is 16.]
Sex:
Height:
Weight: [Please, no fatties. You'll only slow the group down.]
Build: [Thin, Athletic, Strong]
Former Occupation: [Were you a doctor before the apocalypse started? We WILL need one. Or were you a member of the United States Armed Force, recently discharged?]
Talents: [Are you skilled with a gun? Do you have a wicked baseball swing? Were you the star of your school's track team?]
Items: [What items are on your person at the beginning of the RP? Please, nothing outrageous.]
Appearance:
Biography: [Optional, because no one really gives a damn about who you were before the apocalypse, unless you were a doctor.]
Name:
Aaron Cartwright
Age:
21
Sex:
Male
Height:
6'3
Weight:
200 lbs
Build:
Athletic
Former Occupation:
Before the zombie apocalypse, Gordon was a baseball prodigy, on his way to being drafted into the Major Leagues.
Talents:
His swing with a baseball bat is unmatched.
Items:
Aaron is currently in possession of a
Remington Model 870 pump-action shotgun
, an
M9 pistol
(both of which he took from a gun store), his personal metal alloy baseball bat, and a basic first aid kit. As of now, he only has about 20 shotgun shells and three magazines left in his backpack.
Appearance:
Aaron is African-American. He has black, buzz cut hair and hazel eyes. His skin color is moderately tan. Due to his terrible vision, Aaron wears full-frame, no-line bifocal glasses. The clothing he wears all depend on what's available and what's not been torn to shreds by the zombies.
Biography: N/A
Last edited by a moderator: