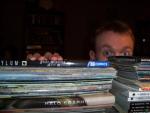 Joined

Dec 2, 2005
Messages

3,033
Age

34
Location
Website
Here's MY theory:

The Keyblade War happens BEFORE the events of Kingdom Hearts. Revealing the TRUE Keyblade Masters and Ienzo's and Xenahort's Past. Who were BOTH Keyblade Masters. Ienzo being the Keyblade Master of the Present. The blurry man we see approaching the three Knights is Ienzo, AFTER he has fallen to Darkness, he had come to the World Of Darkness (Which I believe to be the World that the Knights are on) to finish off the Last Keyblade Masters.

The three Knights, realizing their friend has fallen to Darkness and CANNOT be saved have to choice but to stop him. Believing him to be dead, the Knights create the door that we see Kingdom Hearts behind and lock the world of Darkness behind it's gate.

After the Knights realize Xehanort is the Master Mind, they wipe him of his memory and send him floating through the Darkness of the worlds, leaving him with ONLY his name. Ienzo, using his Last strength, transports himself to Radiant Garden.

After some time he has gained Ansem's trust and joined his cause to further their knowledge. Since Ienzo is so far into darkness he can nolonger wield a Keyblade.

Then, one day, Ansem claims to have found someone with Superhuman abilities. Ienzo is shocked to see his once former, and powerful ally, stripped of all his knowledge, left with only a name. Aftr of which, Ienzo begins to press Ansem and manipulates him into studying the Darkness of the Hearts.

Ienzo realizes Xehanort may have lost his memory, but he still contains his Darkness. And so it begins again.

______________________________________________

There.