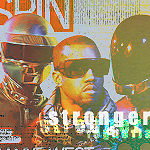 You ain't got no YEEZY!?!
Joined

Oct 5, 2005
Messages

5,680
Age

30
Location
Hi my fellow kh fans!!!!
Debate on my theories or your own theories!!!!Here are some of mine!!!:
1)Sora will lose his heart(again)and become a nobody
2)BHK is the keyblade master for Twilight
3)Mickey is in the order only to spy on Diz
4)Riku is in the order only to spy on Diz
5)Axel tricks BHK to join the order
6)Travese Town is NOT returning
7)Deep Dive world is the dark version of Twilight Town
8)Kairi will become a keyblade master
9)Riku now walks Twilight(he chose Twilight in CoM)
10)Land Of Dragons is the first world you venture to
11)SE WILL make a KH3 if KH2 is a big hit in Japan and USA
12)Timeless River is an older version of Disney Castle
I also think Kairi MIGHT be the new female order member in kh2.Well those are my theories!!!What are yours?