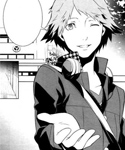 Joined

Jan 13, 2010
Messages

3,758
Awards

1
Terra finally regained control of his body, but accidentally sealed his heart with MX's instead of releasing MX's, which resulted in an amnesiac man called Xehanort.
According the game, that was actually MX. (i know, it makes little sense but....)
it is heavily hinted that Xehanort used the Keyblade to open it.
No, it's not. Reread the original Ansem Reports. Xehanort explains that he merely opened it and it was already unlocked. He didn't use the Keyblade, in fact, suggesting he even had a Keyblade is silly because Xehanort was going to great lengths to
find
the Keyblade (that's pretty much why he became a Heartless, after all). What's implied is that Xehanort had the -ability- to open the door, and now it's pretty clear why (though it was kind of clear why back then): because he had a Keyblade Wielder's heart (three actually). It's similar to how Riku was able to see the keyhole of the door to DI's heart without a Keyblade. It was because he could still wield one, even if he didnt have one on him.
So, Terra took control and stabbed his chest, which released two hearts:
You just said the hearts were one and now you're advocating that there are two?
Xehanort, still believing darkness was supreme, allowed himself to turn into a Heartless.
First of all, probably the thing that will end this most, is the fact that we already -know- how Xehanort lost his heart. And it wasn't through the Keyblade (again, because he didnt have access to one then). In KH2 it's made clear that Xehanort casted off his body by walking into the Door to RG's heart with the other apprentices. So, that alone kind of debunks this whole thing...
This is supported by the fact that Ansem SOD doesn't show a SINGLE trait of either Terra or Eraqus.
Nomura said XH went to DI because of Terra's promise with Riku, so, yes he does show traits of Terra.
and also has knowledge about the Room of Awakening
Chamber of Waking...
But he never said he actually had a humanoid form...
Yes he did. In the Reports he says bluntly that he never transformed into a Heartless. This would imply he still had his human form.
This is why Ansem SOD doesn't look exactly the same as MX.
He doesn't look the same because he is also part Terra/Eraqus.
*Riku had Terra's heart, and therefore his power, within him
That's foolish to suggest as the first thing XH practically does is expel Riku (and therefore Terra, in your theory) out of his body.
*Riku was one of the other seeds Xehanort spoke of.
Pretty bold claim, and I'd even say it might not be true as Nomura leads us to believe that the only reason XH went to DI was because of
Terra's
promise to Riku. Makes it seem Riku was more of Terra's seeds than he ever was of Xehanort's.
Young MX and Riku have the same voice, which means at some point, MX influenced the boy so he could one day become a seed.
That's a huuuuuge leap, especially when you consider that David changes his voice for MX. If Riku and Young MX truly had the same voice, he would speak normally, but he didn't.
Also, when Terra meets Riku, he sees Riku as young MX for a moment, but then Riku turns into his older teenage self.
Yeah... and we already know why. It was a director's nuance to better illustrate the connection Terra and Riku would have in the future. It wasn't really happening.
Not because a sliver of Terra in Ansem SOD wanted him
Already mentioned how that -was- the case.