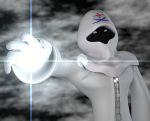 Joined

Apr 21, 2005
Messages

5,800
Awards

2
Age

29
Location
It should be pretty clear at this point that it's not exactly the cliche "darkness is no worse than light, only different" reversal, either, though.

Darkness, above all else, is dangerous. It's instinctual and selfish and violent and animalistic, obsessive and reckless and unyielding and open to manipulation, fearful and fear-inducing and jealous and correlated with rage. It's also incredibly difficult to stamp out completely.

And, as a being of pure darkness, Vanitas is composed entirely of that, and nothing else. Of course he's pure evil.

But, the thing is, most of those traits can be turned from completely awful personality flaws into strengths of their own if properly tempered - which is what Riku and Terra had to learn. It wouldn't work if they didn't have a strong enough light to get that darkness under control, though.
Not really. I'd still say that light can be as dangerous as darkness is. Again, with my example of Eraqus, he was willing to kill his own 2 pupils just because of "darkness." The only thing that makes darkness more dangerous is the fact that so many people oppose it and refuse to see the other side. And you know what? Some of the characters say that "fear is a darkness only" but even that isn't true. Mickey himself says that the reason they hate the darkness is because "they're
afraid
of the people inside it." Fear would be able to drive light just as much as it would darkness. The only reason people would still believe darkness is "evil" would only be because we haven't gotten a villain who is on the side of the light. (which is one of the reasons why I'd love for the new saga's villain to be one of the light... plus it'd be a cool twist)