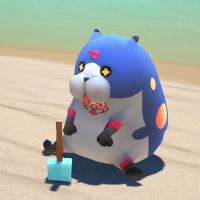 trapped in revamp hell
Staff member
Joined

Nov 1, 2009
Messages

17,762
Awards

36
As mentioned in the finale Q&A, a patch was released to address some bugs and make adjustments to certain scenes and lines of dialogue. Unfortunately they're not telling us what has actually been changed, so dump your findings here I guess.
Update: 6 scenes have received adjustments:
Scene 1-1, A Recurring Dream
: The entire UX montage has been replaced with scenes excluding the Player. Now the most you can see of them is an arm.

Scene 5-12, Dark Emotions:
Xehanort wonders if he can survive in the corridors because he's the child of destiny, rather than it just being his destiny to do so.

Scene 7-1, A Worthy Heart:
Xehanort's mentor tells him about the child of destiny, not the chosen dark vessel.
Scene 7-2, Reunited:
Xehanort now says he believes Ven to be the child of destiny rather than just "the one."
Scene 8-11, Two Kinds of People:
Quite a few visual adjustments. Xehanort now prepares to shoot a beam of light at Baldr first, then he falters and raises his Keyblade to strike. In the original, he just went to strike immediately.

Xehanort's expression has changed:

He tries to shoot Baldr again before ultimately just smacking him like he did originally:
Close-up has been moved up to after Xehanort deals the final blow. He also doesn't linger as long in battle stance, instead quickly returning to upright position.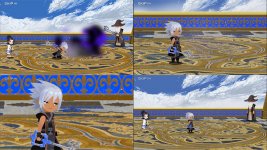 Scene 8-14, Child of Destiny:
Robed person no longer specifies that Xehanort's great-great-grandfather was a renowned Keyblade wielder, and instead merely states that he shares a bloodline with such an individual.

Like the opening montage, the Player has been edited out of this scene as well. Sporty yellow boy is no longer canon and the Player can go back to being anyone.

Last edited: