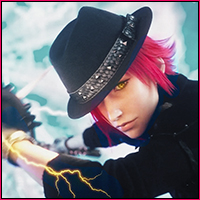 Joined

Dec 8, 2019
Messages

40
Awards

2
Age

23
Holy shit... I don't know how I can possibly thank you for an infodump like that.

For now I'm only interested in Roberto Ferrari's ventposting. But that stuff takes effort to dig up, so I'll just ask you to take a breather, rest and only come back when you're in better shape. You could use a break, really. =( ♥
Most of his posts have been sadly deleted after he got into trouble with SE (he gave an official interview later apologizing to SE). All that's left is his google translated posts in various forums
You can find some of it here
https://novacrystallis.com/2016/12/artist-roberto-ferrari-speaks-designs-final-fantasy-xv/
This isn't even half of what he revealed on his facebook sadly. I think i still have a screenshot of his post on my computer where he said that he had an argument with Yusuke Naora and left to join Nomura.
This one is the most interesting one from those that were saved
I wasn't part of the 2010 group from XIII that "would have scratched their bellies" (and then turned into the XV one), I came into May 2010. I know I was called in when a (female) designer resigned since she wasn't able to get any kind of approval from the art director. Then from 2010 till the end of 2011 I worked on the designs I got assigned with, without any big issues. That's why when the team got resized from 200 workers to around 20 in 2012 (right before the arrival of Tabata and the Type-0 team), I was still there and worked with the newcomers till 2013. Then I left because I followed mister Nomura.
Although google translate did a bad job i still remember what he said. In the first part he says he wasn't part of the team before 2010, which was the team that were not actually working on the game due to the team working on FFXIII (which was confirmed by Nomura in 2008 in famitsu). He then says that he joined in May 2010 and that everything was going well until late 2011. This aligns perfectly with the info we have on the development of Versus XIII. They started pre-production in 2010 after the release of FFXIII, entered full development in September of 2011. Then the team getting resized from 200 to 20 people refers to the team going to work on A Realm Reborn. Wada in his business report also stated that "Multiple HD titles were either delayed extensively or canceled because of the effort to rebuild XIV". There was also a leak in 2012 by a trusted insider at neogaf who said that every member of the VsXIII team was moved to XIV recently but his post has been deleted since then presumably because he got into trouble with SE and only the thread remains (i actually asked him about it on his personal twitter and he deleted my comments. Note: this leak has nothing to do with Kotaku's rumor about Versus XIII Getting canceled in 2012), he is still a trusted insider to this day.
I'll take a break now.