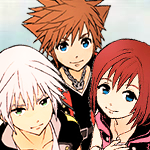 Joined

Dec 5, 2009
Messages

2,993
Awards

15
Location
Question, does Shibuya (シブヤ) count as an original world, since it technically debuted in TWEWY first? Then again, TWEWY!Shibuya doesn't have Scala script in its billboards.
Yeah, we currently don't know, if Yozora's Shibuya is the same as TWEWY's Shibuya. Therefore I think it makes sense to categorize it as an Original World, for now. Also we don't really have a Square World category yet, if it really is TWEWY's Shibuya this would be the first of it's kind in the series.
I don't think we'll see the worlds of the first princesses anymore. What would be the point?
Yeah, I think the old princess' worlds will be put to rest for the time being. We'll continue to explore them in Ux and DR, but in the CGI games they'll probably not invest remaking the old worlds. Especially with them still needing to establish who the new ones could be.
I'm hoping for Moana, Tiana and Raya to be the final three, but who knows who they'll end up picking.
Come to think of it, are there even any Disney films in the foreseeable future with princesses in them? All I got was…RatLD, Marvel, and…Pixar…hmm…
To be fair Disney usually keeps the information on their future projects bare bones. Like we know RatLD is coming and that after that it's Encanto, but we know next to nothing about that movie. Other than who's involved and a rough synopsis.