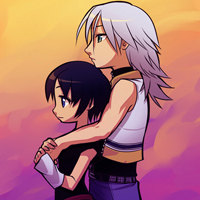 Joined

Jan 31, 2008
Messages

16,306
Awards

5
Age

37
Location
Website
One of the biggest differences between CoM and Days though is that CoM was contained 1) within a month, 2) within a single world and even inside that world it's not like you had too much exploration. It was "waiting rooms" between Memory floors. Also, unlike with the Org members outside of the castle who not only had various worlds to explore, the CoM Org members had several specific points of interest that focused further once Sora and Riku made it into the castle.
It's more comparable to Saix and Axel and their own little plot, or the Xigbar-Xemnas-Saix meetings in regards to the Replica program. But that still leaves us with quite a hefty amount of time (a year compared to about a month, if nothing else) in which the different Org members just did their own thing, never once coming together. It's kind of hard to bring relevance to such characters without losing track of stuff.
Marluxia, Axel and Larxene were a team.
Lexaeus, Vexen and Ienzo for the most part were a team. So it was easier giving them insight, screen time and attention because you got three birds down at one stone.
Not so much the case in Days where the only way to really give insight about anyone is to have Roxas go out on missions with him.

And I don't really see how structure wise, Xion and Namine are that different. Instead of having fake Memories to make him care like Sora, Roxas actually established his own friendship with Xion. The plot mayhem started once she went missing but by then, it really is like Namine and Sora - Roxas chasing Xion while Xion does her own thing and at this point in CoM we got noticeably more of Namine as well.
It's just that RAX's relationship-basis was shown on-screen while for Sora, Repliku and Namine we were TOLD they had a basis to behave in such a manner.