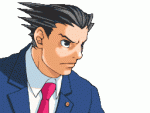 Joined

Mar 2, 2010
Messages

3,484
Awards

2
Age

33
Location
We all have them. Minor, sometimes illogical things that just rub us the wrong way. Could be a look somebody gives you, or your blu-ray player not cooperating, or something your cat does. We may not always know why, but it doesn't make them less annoying.

This thread is not for long intellectual discussions about these things. It's simply an outlet for civil rants or mini-rants.

One for me is Character vs. Battles. The type that takes two characters from different unrelated franchises, and pits them against each other, ala Sora vs. Superman or Gandalf vs. Iron Man. They start off ok, albeit completely without context, but soon suddenly Sora uses Genie and suddenly he's more powerful than god, or Supes is swapped out for an AU version who once moved planets. Then the rules are debated and ignored and it becomes so senseless and OOC for both parties that by that logic, Harry Potter could kill both of them, and somehow would.

The worst part is how everyone participating is too stubborn to just move on when it's clear, especially by this no rules type of fighting, there's a stalemate.