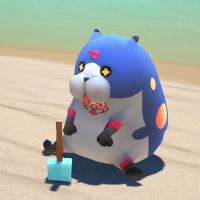 trapped in revamp hell
Staff member
Joined

Nov 1, 2009
Messages

17,758
Awards

36
Originally Posted by

FantasyKing

I still believe Kairi was Okay fighting the heartless, she didn't get injured and she didn't shout for help like an ordinary Damsel in distress, she did okay for a girl.

Sora was more experienced barely had he received the keyblade because he played nothing more than sword fights with riku since he was a little boy, playing with his wooden sword gave him the skills to use a real one...

Also Riku only had one sword/key blade "way to the dawn", I'm sure that feminine keyblade was given to him by someone (mostly the king or DIZ) else to entrust to Kairi when the right time would come.
Xion didn't have any experience using the Keyblade either, but she, unlike Kairi, actually took down Heartless.
Riku has two Keyblades: Way to Dawn and the gayblade. The gayblade's charm is the yellow star that Namine changed Kairi's seashell charm into, and represents his memories of Destiny Islands.