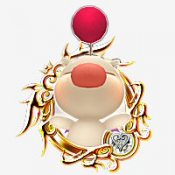 We are Moogle! Hear us...kupo?
Joined

Oct 5, 2009
Messages

8,349
Awards

17
Location
Not sure if someone has said this already, but when you first stop to think of CoM, you come up with a lot of cons. The card system was confusing to some AT FIRST, the story progressed slowly (though by the end it was interesting, in the beginning it was pretty slow), the floors were repetitive, there were no new worlds, the only time anything really interesting happened was in between worlds which made the worlds seem like a chore, having to enter into a battle like in FF was sometimes annoying.

However, if you think about it, all those cons can be turned into pros. The card system was fun after you got the hang of it, the story was still interesting, the floors allowed you to know what was coming up, (the world problem is still a problem), you knew when to expect story cutscenes, entering battles allowed you to run from some enemies.

Most people don't bother to think of the pros and just stick with the cons. They also have a tendency to compare ever aspect of CoM to the main titles.