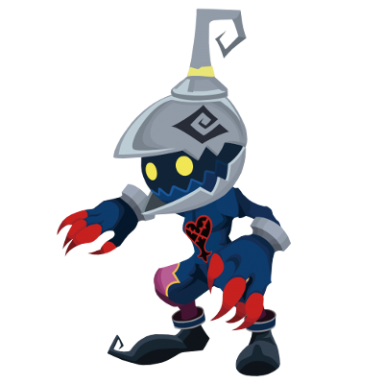 Joined

May 14, 2017
Messages

688
Awards

6
Location
Ahoy hoy,

You all remember the card and die forms that Sora has in Kingdom Hearts 2 right? they're the result of losing a game against a gambler (or luxord) and unlike his other forms, both of them are pretty terrible in combat. You can't enter doors/leave areas unless an enemy pushes you through, you can't gain height when you jump, all around they're pretty horrible. I know a lot of people give anti-form a lot of flak, but at least you move around faster, can dodge with anti-glide and attack with a pretty fun moveset. But i have noticed that they have their uses, the die form is fairly fast, its weak attack can stun some enemies and can be spammed to get from one side of the room to the other relatively quickly. On the other hand, the card form slowly floats above the ground making it a chore to get anywhere really, but the attack has a greater range of damage, doing a near 360 spin. In addition, any attack launched at Sora's back is deflected, preventing any issue of being sucker punched to death. With these in mind, i propose a question to all of you. If you had the option to be stuck in either card or die form for the ENTIRE game, which would you pick?

That being said, i should point out that a few liberties would have to be taken to make the game playable, as some fights rely on reaction commands. For those moments where a reaction command is absolutely required to finish a fight (i.e. Thresholder in Beast's Castle, the hydra, Pete's Olympus fight, Demyx,) or is needed to progress the fight (Grim Reaper, the final fight) Sora would temporarily revert to normal to perform said command, but the moment it finishes, you're back in the form you chose. Another problem that would have to be fixed is the usage of magic for certain fights, like the aforementioned grim reaper. For those, i believe you'd have to rely on your allies to dish out the damage, even if it is minimal this time around. Also the whole "can't enter doors unless slammed through it" restriction would be removed.

So to recap,
Reaction commands would still be used,
Magic is restricted to your buffed teammates
Door difficulty is removed
*Also, before i forget, this would happen AFTER Roxas's prologue, meaning you would only get a brief few hours with the usual, fast paced playstyle.
So which would you pick? would you spend your playthrough constricted as a card? or damned as a die?
and to further the intensity would you take this handicap AT LEVEL 1 on critical mode!?!?
(Just kidding on the last one, no one would do that insane mess of difficulty right? RIGHT???