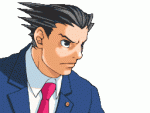 Joined

Mar 2, 2010
Messages

3,484
Awards

2
Age

33
Location
I guess it has something to do with thats kinda how he died in the movie (I think). But since Disney isn't as dark as they used to be, They didn't make someone push him but instead him falling off by accident. Supposedly from the vibration or wind or something of the Dream Eater.
nobody pushed him or Gaston, or even the witch in snow white. all their deaths were rather incidental.
Well, I think he just figured that the Gargoyle Dream Eater was sending him to the heavens to be crowned in glory or something like that. That's how I look at it.

I actually really liked how they did Notre Dame in KH3D. I always knew it wouldn't be a 100% adaptation (since NONE of the worlds in the KH series are), I was glad for how much they did keep in.
I'm still kinda disappointed there's no Hellfire.