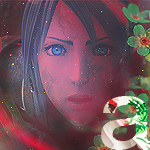 [Monkey's Update: 1/20/07] Alright, we have a few more new goodies! Mikail has added another batch of Animations to the site. Examples below! Be sure to check them out!
The newly released Kingdom Hearts Series 2007 Calendar scans have finally appeared online! Many thanks to Kowaiki for taking the time to share these with us.
These calendar pages illustrate many scenes from Chain of Memories, and some ...