Details

Published on November 12, 2020 @ 11:00 am
Written by Joey
Kingdom Hearts Melody of Memory is just around the corner. Arielle and I went hands on with the new rhythm action game prior to release and there is plenty for us to discuss about this game. Kingdom Hearts Insider's review will be coming soon, but in the meantime here's some tips to help you get started when you launch the game on November 13th.
Don't put the controller down!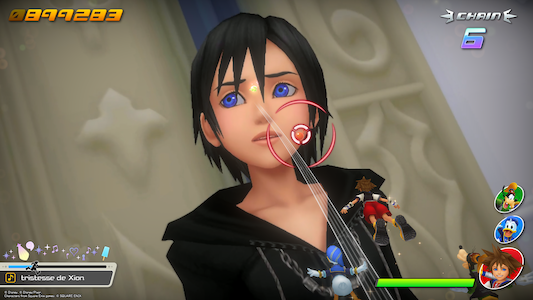 When loading up Melody of Memory for the first time, you'll be treated to an opening cutscene compilation that features scenes from across the series set to Simple and Clean. You may be tempted to put the controller down and enjoy the visuals, and you can absolutely do that but the opening also doubles as a Memory Dive stage!
You can review Memory Dive footage in the theatre section of the museum so you can enjoy the various videos put together by the development team without having to play through the stage.
Use the D-Pad to navigate through the World Tour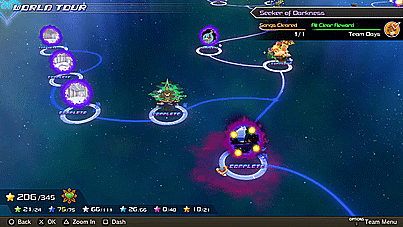 The map for the World Tour is massive. It can take you some time to travel from the Kingdom Hearts worlds to the Kingdom Hearts III worlds.
When a world is unlocked, you can use the D-Pad to quickly travel from one unlocked world to the next. This immediately teleports the Gummi Ship around the world map so you can get closer to the stages you want to play through faster.
You can also press Triangle on PS4 / Y on Xbox / X on Switch to zoom out and view a wider area of the World Tour.
Practise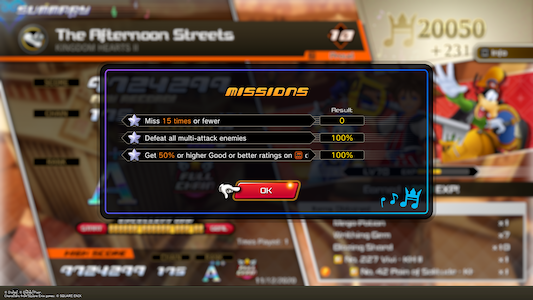 Like with any skill, practise makes perfect and Melody of Memory requires perfection. Whether you're tackling Proud or Performer mode (the later not available in World Tour) or battling ruthless computer opponents in VS Mode, you're going to want to strive for perfection and the first step is knowing the songs like the back of your hand.
The best way to practise is to play within Track Selection. This is an itemised list of tracks unlocked during your World Tour. Unfortunately, you can only access music here once the song has been played through and completed during the World Tour so if you want to jump into some music from a later stage then you need to make some progress within the World Tour first.
Of course, replaying the songs also has a wealth of advantages. You get more experience for your team, you get more items for synthesis, and you unlock more content for the museum!
Back out to the main menu every so often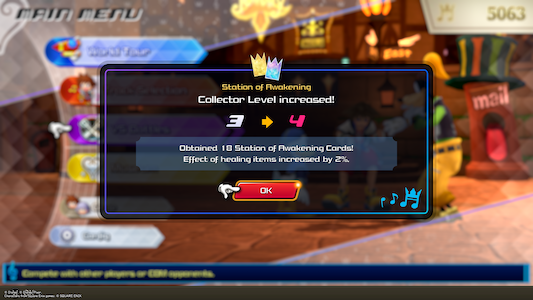 Unlocking memorabilia for the museum gives additional perks to your party. You can get additional strength, defence, or EXP bonuses by collecting Key Art Cards, Story Scene Cards, Keyblade Cards and more. The bonuses register when you go back to the main menu so check back often to reward yourself for all your hard work.
Synthesis (and use items!)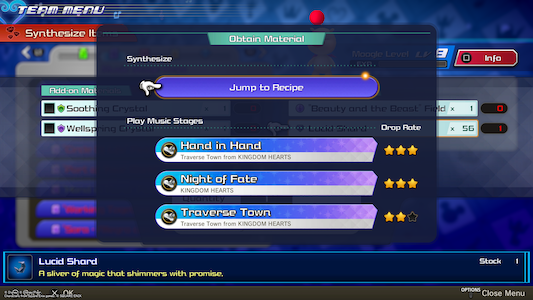 Melody of Memory includes a synthesis menu where you can craft items to use in battle, Memory Dive stages, icons for your ProfiCard (more on that next), an assortment of collector's cards, and materials themselves!
You collect materials during stages (more when you use the item boost) from defeated enemies or as clear bonuses. If you need materials to make an item, you can click on the item you want to create, scroll over the material needed, and press Triangle on PS4 / Y on Xbox / X on Switch and it will show you a list of stages where the item can be collected from. You then click on the stage you want to play and you'll be taken to where you can configure your set up and away you go!
Don't forget to use the items! Potions are necessary when tackling tough musical tracks that you can struggle with, and provide the option to continue on. Other items such as the item boost or the EXP boost, as the name suggests, give a temporary boost to your party enabling you to collect more materials in a stage as well as extra experience. And of course, the Summoning Star gives you the ability to have Mickey Mouse join your party for a song (try him out with different teams and he'll change outfits to how he looked in that game!)
Customise your ProfiCard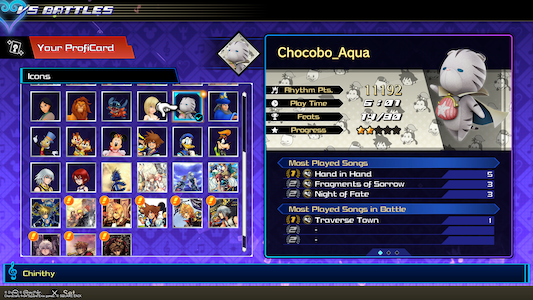 Your ProfiCard is the information that you send out to the players that you face online. While you can't choose your friends to play against, you can set parameters to find someone in the world looking for the same challenge as you. You can choose what character, or illustration appears on your card, customise the background design, as well as the colour of the card too.
When battling someone online, the winner of the stage will be able to collect two items for their museum while the loser gets one item for the museum. You will then swap ProfiCards, which are stored under the ProfiCard Collection. You can view their stats, how far along in the game they are, and even compare your card with theirs.
Getting your ProfiCard set up is essential if you want to tackle the online component. Show off your favourite character and your achievements, and collect the ProfiCards of your fallen competitors (or the cards of those who bested you.)
Configurate your game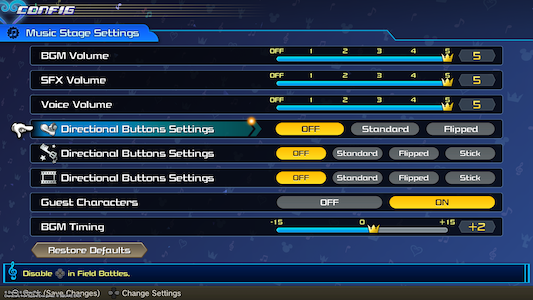 Rhythm Games require precision and with the invention of wireless controllers, lag can unfortunately come into play and mess up your performance. Don't forget to go into the config menu and adjust the settings to your liking.
You can adjust various volume levels, such as background music, sound effects, and voice volumes, choose whether or not to use guest characters in relevant stages (such as Beast and Stitch in Beast's Castle and Deep Space respectively), and adjust background music timing to compensate for any lag.
You can also review any tutorials you've unlocked, just in case you haven't played the game in a while or accidentally skipped past the instructions.
You can play Co-op right out the gate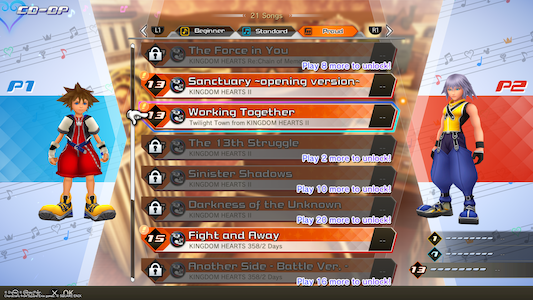 When starting up the game for the first time you are thrown into the World Tour. From here you can back out to the main menu. At this stage, the Museum and VS Mode will be locked but you can jump into Co-op and play with someone sitting with you.
There are 21 songs to choose from, with a handful of those 21 songs available at the start and more unlocked after playing a certain amount of times. You get a variety of songs from across many games, such as Bustin' Up on the Beach from Kingdom Hearts, Fight and Away from Kingdom Hearts 358/2 Days, all the way to Don't Think Twice from Kingdom Hearts III.
Like the other modes, you can choose to play these songs on Beginner, Standard, or Proud. One Button Mode and Performer Mode cannot be chosen for Co-op play.
We hope these tips are helpful with you getting a headstart in Kingdom Hearts Melody of Memory. Stay tuned for our review of Kingdom Hearts Melody of Memory, coming very soon!