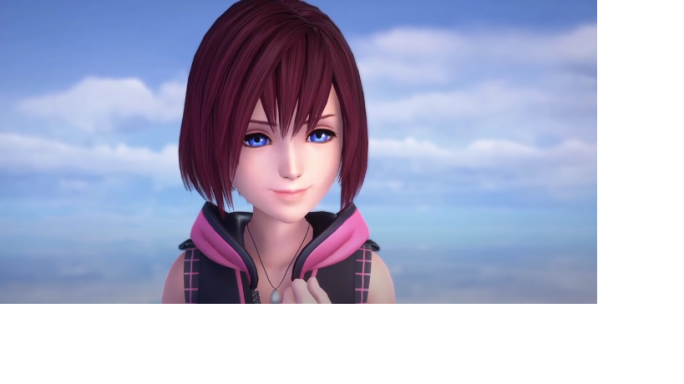 Joined

Feb 23, 2011
Messages

1,891
Awards

28
Age

29
Location
A thread that I'm making (inspired by the Kairi movement over on Tumblr) for anyone who wants to post any stories, videos, or art pertaining to Kairi here.
This is in the hope that maybe together, we can make a big enough splash to get Square Enix's attention and let them know we want more of this girl.
So feel free to add any and every pro-Kairi thing that you can find, guys
Also, I would've put this in the Kairi fanclub, but since this is a bit more of a specifically focused thing I didn't?
But IDK. If it's a problem, mods, feel free to move this there.
But anyway, to kick things off, here's a little Kairi drabble that I wrote the other day
Her hands are folded over her heart, as Saïx summons a gust of wind to send her away and Kairi fears.

It isn't in fear of what she thinks is going to happen to her that she does so. No, it's not that at all.

Riku steps in at just the right time to push her back, so that she ends up behind the newly awakening force-field, after all.

What Kairi dreads is the fact that Destiny's Embrace had begun responding to her apprehension–and had nearly materialized in her hand–and she doesn't know what she would've done if it had.

For the past several minutes now, she's been ready to fight any monsters that might get between her and her friends–and she even has bested a few of them–but now Kairi is beginning to wonder if the Nobodies are even truly monsters at all.

That awful man, that Saïx–who had held her captive just to enact some sort of terrible plan through Sora–is fighting against the King's men and Kairi's best friend valiantly, and his claymore glints in the flames of the moon–the way that Axel's own edged chakrams had lit up when he'd been trying to get her back to Sora in his regret.

These don't at all seem like the actions of someone who doesn't have a heart… and so Kairi begins regretting thinking of trying to take Saïx on barehanded before.

Something about this entire situation… doesn't sit well with the Princess of Heart and this feeling of her own is later validated, when she ends up in the graveyard for most of the members of Organization XIII:

They had all thrown their lives away so recklessly, but for what?

Anyway, back in the present, Kairi prays and tries to hold back the darkness that exists with Saïx's powers over the void.

If she can help Sora in this one way, then she'll wait for him for a thousand lifetimes in payment for that gift if she has to.

Thankfully, it isn't long before Sora, Donald, and Goofy return to Riku and Kairi as the victors.

And Kairi wants to make sure that Sora is alright, the way that she just had after his battle with Luxord, but she's cut off as Sora begins questioning things, too.

Riku, as always, is quick to fill in what his two lazy-bone friends are too slow to get–and so through him Kairi ends up learning that Roxas is Sora's Nobody.

Likewise, she begins seeing just who Naminé might have been–and if that's the case, then Kairi doesn't at all like what she thinks must have happened to that nice girl she'd met amidst a sea of confusion.

"…It was when you came to rescue me, remember?" Kairi interrupts Riku only once during his spiel, and it is to make sure that Sora knows just when Roxas had come into existence.

She had been somewhat cruel to him before, Kairi now realizes with a frown on her face–as she'd desperately tried to get Sora's name out of him, and hadn't really even given his own life much of a passing thought at all–and so she now wants Roxas within Sora to know that if she wasn't listening to him back then, she most certainly is now.

Riku recounts his tale about facing Roxas in order to help Sora wake up (something that Kairi can really only guess the details about), and she feels herself sympathizing with Roxas and Riku both.

Roxas, because the path he walked was too heartbreaking a one. And Riku, because Kairi understands just how hard it must have been for him to give himself over to the darkness again… after it had such long-reaching consequences when he had kindly done the same thing for her.

Riku ends his story, and it's like all the friends gathered have been pulled out of a trance, as they go back to mulling things over and prepare to go find the King and this DiZ now.

When Sora ends up talking to her before they head back through the door, Kairi acts annoyed that she got left out through all of these adventures and demands that Sora tell her all about it later.

But the girl's somewhat acting here, so that Sora and Riku won't have to worry about her strength or morale in this location of the enemy's.

However… Kairi's resolve is slipping. She really doesn't know what to do or believe about this turn of events anymore.

And though she can feel her Keyblade, that was inspired by both of her homes, tugging at her heart, Kairi doesn't want to wield it just yet:

Not until she's certain she won't be harming those who maybe do exist and have some sort of emotion after all.