Mirai Nikki Manga - Read Mirai Nikki manga scans online.
wiki summary said:

Yukiteru has always been rejecting any offers to go with friends, and he just keeps writing a diary on his cell phone. He has an imaginary friend, a god called Deus Ex Machina. However, Deus now wants to play a game with Yukiteru, a game of survival. There are twelve contestants, Yukiteru is one of them. The winner of the survival game will become the next Deus Ex Machina. In order to win the game, the contestants must use their diaries to eliminate one another. For Yukiteru to survive, he must team up with another diary holder, a girl by the name of Yuno.

Each player is assigned a number based on the order that Deus modified his or her diary. The diaries now record the future in the same manner their future selves would have written down events that have already happened; the only exception to this rule is when the holder reaches a "Dead End", a time when their lives would be finished without significant intervention. Each diary varies in properties and functions depending on the holder's personality, occupation and lifestyle. All the diaries have their shortcomings, some more so than others, and can be used without the diary owner's consent should they fall into another's hands. Because the diaries are written from the perspective of the holder's future self, the future can still be misinterpreted and the diary entries can then turn out to be inaccurate. Each of the diaries have become the diary holder's future, so if the diary itself is destroyed or broken, so too is the holder's future.
tl;dr this is a super combat battle story of a girl who fights, risking her life for a boy
if i had to compare it to some mainstream i suppose it's like a cross between death note and higurashi. that being said, don't expect this to be a clever detective bout of the minds that generally follows the laws of existence, this manga does whatever it wants
pretty much every character besides yuki (shinji ikari) is lolwut, and yuno (shion) has high concentrations of yandere so if you dig that kind of thing. it's also very ecchi.
it's ongoing at 40 chapters released monthly. there are also two side series, mosiac and paradox
mosiac is made up of 5 chapters featuring some of the events of the 9th, uryuu minene, was caught up in between the series. it goes over when she got her future diary, her reasons for being a terrorist, how she was captured by the 6th, and some other things like how she met akise
speaking of which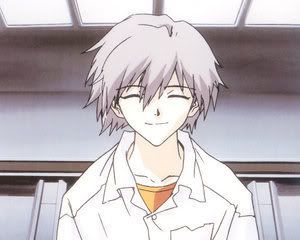 paradox is about this homosexual taking yuki's place as main character after murumuru breaks a hole in cause and effect erasing yuno from existence, and therefore leaving yuki to the mercy of the 3rd. in order to keep him alive and not destroy the fabric of cause and effect, murumuru finds akise and he defeats the third by being an angel or something. both chapters are mostly comic relief and murumuru calls kaworu a fag it's cool
Last edited: