My ideal Jak and Daxter reboot/remake/crossover is based on this mod for KH2FM.
Step aside Sora, let the demolition duo show you how it's done.
I was more of a hack and slash teen than a 3rd person shooter. So I don't mind swapping play styles. I'm fine with keeping the platformer but just add some hack and slash flair.
To deal with gun wielding enemies, Jak could just parry with his sword.
Here a reference point for each game's tone.
Jak1-
Jak 2-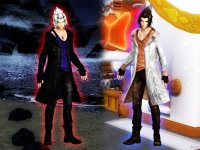 Jak 3-
a crossover between Jak and KH is also cool.
.
Thank you for reading my drabbles.
Last edited: