This is probably a bit old and already noticed, but I still decided to post it. I haven't been here for quite some time so it already've been posted.
Anyway: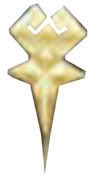 In here we see Terra save Ven at Radiant Garden. Look at his belt. It has a symbol. Ven has the same symbol on his left or right side of his chest. So, is it, just like the Heartless' and Nobody's symbols, the symbol for what they are? The Chaser's symbol? Or is it the symbol for the Keyblade Masters? Though Old Xehanort doesn't have it...
Oh well, I just noticed it and thought it would be nice to post here.