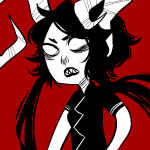 Joined

May 17, 2007
Messages

6,355
Age

30
Location
Re: The ORG Intermission: Enmity

XII

Clouds, or at least the cluster of airships that gave the illusion there were clouds, had cleared, allowing the blistering sun to shine down on the cemetery. Minerva was walking down a dirt path; it was one of four of the long, narrow clearings created by the space the eruption of magical energy had not paved over. Keyblades littered the ground to both sides, almost endlessly.

A dust storm had picked up as she neared the crossroads of the paths, making it difficult to see or move as fast as she wanted to. She wiped the dirt that collected on her visor out of the way. When she neared, Minerva could see a flickering light emitting from a blob of a human-shaped shadow; a sign of life. But her heart dropped; it was orange, just like the energy the dark wielders gave off. She hurried forward, and her vision of the figure sharpened.

A single person was hunched over, quaking in pain, too distracted by their suffering to look up at her. Minerva saw black armor; the same ornate, spiky armor that the wielder who challenged Al's wore. However, they had no helmet, and she recognized their identity immediately. His head was down, but the white hair was a clear give-away.

"Al's!" Minerva called, relieved. She smiled, and ran over to him. He was probably the last person she could call a friend, to think she would have lost-

His head snapped up, reacting to her voice. The intimidating eyes that stared, hungrily, were not the ones she had seen when they were inside the golem, even though the rest of the face matched. They were fluorescent and orange. Al's, or whoever it was, flared his teeth; he was fixated on her like an animal ready to jump its prey. His arm stretched out, and a Keyblade appeared.

That made her surer than ever that it was not Al's. The Keyblade she was seeing was unlike any she had seen before. It was huge; twice the length of any other Keyblade. In fact, it looked as though it were made of two Keyblades combined, crossing together with a web-like blade rising from between. It was startling that he could even hold it up, but he seemed to have recovered and was in top condition.

Minerva was anything but ready for a fight, especially with another person close to her, but her flight or fight instinct kicked in and she found herself prepared to defend herself with her Keyblade. Al's grinned with sinister intent, and Minerva shivered; that was nothing like the weakened yet friendly smile he flashed at her before.

Before Al's could make a move, they noticed a swarm of black gliders circling above. They flew down, landing behind Al's. All of them were dark wielders; the same black-armored ones, except they brought a few friends. After landing, they approached Al's cautiously, but after he gave them a show of his new eyes and Keyblade, they were at ease. The dark wielders, at least ten of them, turned their attention to Minerva.

Now she wanted to run. Fear kept her in place. However, they all looked to Al's for leadership. He pointed and waved his hand wordless, and all but one of the wielders took off at his command. Al's looked to the final one at his side, and tilted his head towards Minerva. The black-armored apprentice obliged.

Their hand crackled with the orange lightning Minerva had seen when watching the wielders before, prompting her to panic for her life and start backing up. When the bolts grew in size and loudness she had mounted her glider in less than a second, trying to escape as quickly as possible. Seeing Al's changed was already too much; she felt like she was in no state to fight. Dark magic grazed her shoulder and chipped off some of the armor. Minerva dove to the side to avoid any more.

Behind her, the dark wielder flew. His Keyblade had turned less into a glider and more into a pair of wings which attached to his armor and gave him more freedom for his arms. This turned out to be quite useful as he pursued Minerva with a barrage of dark magic. There were a few pointed mountain tops passed by, so she zigzagged around them to create space between her and the assailant. It did little to help, but as she rounded a rocky precipice, Minerva rotated, morphing the section between her handlebars into small cannon. The dark wielder was met with a ball of light magic to the face. The wielder crashed onto a small ledge sticking out from the mountain.

He shrieked ferociously; a mix of anger and a wailing battle cry. The electricity in his hands formed two blades of pure heat, which he banged together a few times to test their stability. Minerva hovered closer and landed, knowing she needed her weapon in its most useful state, but his opponent was still able to leave the ground at will.

Fighting a flying enemy on foot was more challenging than she anticipated. Not only did he have two weapons, separate from his Keyblade, to keep her busy, but he had far more maneuverability. Minerva blocked, then had to parry again immediately, then block once more from the recoil. It was exhausting. Her position was easily manipulated, and her heels were soon nearing the edge of the cliff. The dark wielder hammered down with his blades in a final, decisive blow, leaving Minerva to grasp her Keyblade in both hands and try not to get pushed over. Irritated at her stalwartness, he quickly slid one of his blades from hers and swung underneath to pierce her in the stomach.

He was putting all of his weight into the attack, so Minerva lifted a foot and twisted her body around, throwing the force past her over the cliff. Gravity and the force of the wielder's jetpack were on her side, and he unintentionally toppled forward. The moment of opportunity was long enough for Minerva to get behind the wielder and jump onto his back. She held onto him by the wings and yanked, pulling his upper body backwards and over; he thrashed around, trying to balance himself, and took off at a higher speed to shake her. Minerva clung to the glider, but at the same time drove her Keyblade into her enemy's back. She heard a number of clicks, and sparks flew from the device.

As the wielder lost control of his Keyblade, the two were caught in an intense ride of loops and rolls and dives that had Minerva using every fiber of her being to not succumb to motion sickness and hang on. The instant she felt she may have been right-side-up, she pulled down harder on the nearest wing, not steadying them but aiming; one of the peaks were nearby. They crashed head-on. The wielder was stuck to the rocky precipice, his armor jammed between boulders and divots, and almost unconscious as a result of the impact.

Minerva jumped off his back, feeling herself fall for only a moment before her Keyblade transformed into her own version of the back-mounted glider. Rising up, she stared down the wielder who had managed to disorient her more than her enemies usually did. Parts from her Keyblade disassembled themselves from the glider and floated around her wrist, shaping into some circular pattern. They revolved and glowed and crackled with magic much like the lightning she had witnessed. This was her brand of magic, though. The kind coming from someone who had to push away a lot of feelings before heading off to a pointless war and who had to watch more and more people die and who was very, very grateful to finally get to look down at an opponent as the weaker one before she eviscerated them.

The shards of her Keyblade spun like a turbine; she directed her hand and unleashed the blast. The laser was wider than she expected; it stretched to her height. It also poured forth without end. The dark wielder, with his proximity, was vaporized easily, as well as the mountain on which he was stuck. Behind that mountain was a wider one, which had a hole bored directly through it. Past that, a crater was formed form the intensity of the volatile magic. When the attack had ceased, Minerva was looking straight down a perfectly-carved cylinder through a pair of towering crags. She had no idea she was capable of it.

In the distance, where they had flown from, flashes of light epileptically reflected off the clouds and blowing sand. Minerva turned her glider back to normal, and leaned on the handlebars, panting behind her visor and ignoring the burning sensations in her arms. When she had caught her breath, she flew.

~~~~~

There was definitely something going on back at the cross. Minerva landed before getting too close to avoid being seen, and crept through the field of Keyblades to see what had happened to the dark wielder.

In the middle of the crossroads, there he stood, in his lightning-toting glory. His former comrades were circled around him; for whatever reason they seemed to be defending themselves. The dark wielder attacked one before turning and shooting orange tendrils at another. When someone tried to attack him from behind, he slashed without looking around. The X-Blade cleaved through armor like it was paper, slaying members of the group in one cleave. It shone even in the dusty air, and blood ran off of it as if it were water. The length looked cumbersome yet it moved with such fluidity. Minerva could only see it as a fantastic weapon; she did not yet know what made it so special.

Standing above the bodies, he took a step, but faltered. His hand twitched, and then his arm shook. The X-Blade dropped from the other fist. The helmet echoed with guttural shouts; the wielder held his head in his hands and struggled to stay standing. Minerva shot up, seeing weakness, and, running on adrenaline from earlier, wondered how exploitable it was. When her form towered above the discarded weapons, the wielder's head turned towards her, but he was too overcome with pain to do anything

He yelled and snarled in agony, wrenching the helmet off, unleashing the familiar mane of silver hair. On his knees, the face of Al's longingly stared at her; his trembling arm was outstretched, while the other hand grasped at his chest. The orange eyes pleaded with her for her company. Minerva, shocked, kept still. She saw her friend but had no way of knowing if it truly was him. The eyes were emotional but deceiving.

Al's groaned again, eyes shutting tightly in defeat and pounding his fists on the ground. He keeled over and buried his face between his hands, muffling his despairing wailing. To his side, the X-Blade glowed in a white light; specks of it floated up and disappeared. The X-Blade was vanishing, slowly evaporating. Something about Al's was not right, his form was not stable. Minerva was most likely right; if any of the original Al's was present, it was just in appearance. His mind was warped from his assimilation, and his heart fragmented. The X-Blade had no chance of surviving a flawed merging of souls. It cracked in a couple places before bursting like glass.

Within seconds, all of Al's turned white and misty. Like the blade, cracks formed on his limbs before snaking up to his shoulders and back. His voice toned down, replaced by snapping sounds. His body shattered as though it had been transformed into porcelain. By the time Minerva walked over to his remains, they had either faded away or parted with the wind.

She just stared at the ground where he once was. Once was. He was really gone; that was it. Two friends gone, now, and how many did she have left? Minerva looked over her shoulder at the Keyblade graveyard that had been founded, and realized that if she knew anyone else in the universe, they were probably gone. Well, there was one more, but she now hated him with a burning passion.

Master Ra's Ka. He was the one with perverse fantasies of war and domination. He was the one who would need to pay for his crimes against humanity, but not just those. No, he needed to pay for what he had done to her.

He had approached her with promise of victory and greatness and potential, and took it all away. What, did he expect her to die like a dog in the war as well? Was she just another abandoned weapon like the ones surrounding her? She was nothing in his eyes but a pawn. If Al's was so easily defeated than why should he have had any faith in her, or anyone else?

"Al's, you didn't deserve this." She mumbled, tracing a line in the dirt with her foot, "If I wasn't here, would you have…"

It seemed unlikely that her presence made a difference, but she was anything but in the right mind, and could only think to blame herself.

"What about G-" She was unable to form the name, "h-he," she gulped, "if he hadn't seen me back there, or if I never got that…"

Her brain kept connecting everything back to Ra's Ka. He made Al's go through hell, he supplied her with the armor augment, he killed off the people of that water world, and he did everything he could to incite large-scale war.

She needed to find him and confront him. Ra's Ka was probably sitting safely at Mirage, enjoying the results of his war games. If she had looked up to him once, she was now looking down. Was she really a forgettable pawn? She would make sure he would remember her and her need for revenge.

Off to Mirage it was.