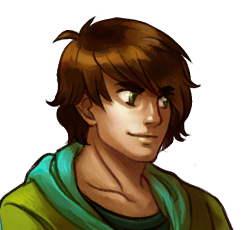 Joined

Feb 23, 2009
Messages

2,773
Awards

16
Age

31
Website

​
---
​
Welcome to Ellin
, the small town where for one reason or another you have chosen to spend a piece of your adult life. Whether you are here because of work, to pursue your life goals, or just because this happens to be the place where your soul and body entered the world, you will inevitably be sucked into the rumors and events that surround any town. Do you buy into stories of the supernatural? Could you deny the existence of the impossible if it is right in front of your face? Are you here seeking love, or is it something else? During your time Ellin, surely you will be asking yourself and others many of these questions, and perhaps even find a few answers.
We all have our individual lifestyles; do you live in a house, or maybe an apartment? Do you live alone, or with family or friends? How about your job? As you decide your place in Ellin and put your personality into perspective, think about how you will react to the news and the rumors around you.
This RP will consist of a series of story arcs that will draw your character into bizarre, uncomfortable, and humorous situations. While the smaller story arcs will come to a close and change, your character will remain and grow based on the experiences they have within Ellin.
---

Rules/Info
​
1. Don't be a dweeb
2. The usual rules. Keep it PG13, don't powerplay, don't machine-gun post, yada-yada. If you don't know what any of this means, feel free to ask.
3. In order to prove you've read everything
carefully
do not place the phrase "I've read the rules and I'm a dweeb" at the top of your temp.
4. This is a slice of life, so more than likely you won't be seeing any crazy action pieces or overly convoluted stories here. It will have more of an episodic feel with story arcs laid out as we go. This means that stories will come to a close and new ones will open up, hopefully keeping things fresh and interesting as we have fun with our characters and go on these adventures together.
5. Note that this is planned to be an extremely relaxed and chill RP, so anyone from any skill set can join!
6. Much like in my last RP, I'm giving you creative freedom so you can do nearly anything (within reason). Keep in mind that Ellin is a small town, so if plan on going to a very crowded area, then it'll probably be after a short bus ride to a nearby larger town.
Any other questions, ask now or forever hold your piece.
---

Creating Your Character:
​
Name: (First and last)
Age: (At least 24 or older)
Gender: (Male or female)
Appearance: (No pictures, at least a paragraph)
Story: (A small backstory of who you are and your life in Ellin so far.)
Personality: (Tell us about yourself. The more details, the better.)
Extra: (Anything else you want to throw in.)
Here is an example character that will not be featured in our simple story (unless someone just decides she's great and slips her a cameo):
Characters
​
[Mad props to Max for pretty much writing this whole opening post!]
​
Last edited: