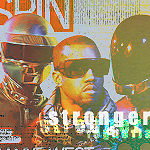 You ain't got no YEEZY!?!
Joined

Oct 5, 2005
Messages

5,680
Age

29
Location
____________________
The Digital World. A parallel universe to Earth made from computer data originating in Earth's communications networks. A place where creatures known as Digital Monsters, commonly referred to as "Digimon", live. The Digital World is relatively unknown to human beings, and neither worlds have ever made contact with each other. But all that changed in 1999.

The "DigiWorld" had somehow collided with Earth, causing seven young children to slip into the DigiWorld. They received mysterious devices (the Digivice) and met their Digital partners. They were the first team of DigiDestined, chosen by fate to protect the DigiWorld. Together, they fought several enemies, including the Dark Masters and their master Apocalymon. But no enemy was more devastating and more evil than Myotismon. The DigiDestined eventually stopped him, but not without the help of the eighth DigiDestined child.

Peace had come to Earth, but it would not last.

Three years later, a new team of DigiDestined fought a strange enemy known as the Digimon Emperor, who was actually a human being. With the combined efforts of the new and old DigiDestined teams, the Digimon Emperor's reign ended, and he redeemed himself when he became the very enemy he was facing. The evil did not stop there. Arukenimon and Mummymon eventually brought their evil plans to Earth, where several evil Digimon almost destroyed the planet. But again, thanks to the DigiDestined, the Earth was safe. But through all this, there was one person pulling the strings. Myotismon had survived his previous encounter with the first DigiDestined team, and had been influencing all the events taking place in the past three years. The DigiDestined had once again defeated him, and this time for good. Both Earth and the Digital World could live in peace.

But, as said before, peace is something that does not last.

It has been fifteen years since the final encounter with Myotismon. Civil war has broken out in the DigiWorld. The Seven Great Demon Lords have gone against the Digimon Sovereigns in an attempt to rule the entire Digital World. Many Digimon have chosen sides. In a last attempt to keep peace in the DigiWorld, the Sovereigns have called upon a new DigiDestined team to aid them in the war against the Demon Lords. But will they be willing to join the Sovereigns? Or will they cut their loses and join the ranks of the Seven Great Demon Lords? Only time can tell.

_________________
Your Role​


You are a member of the newly chosen DigiDestined team. Without the aid and influence of people like Gennai, who are off fighting in several different parts of DigiWorld, you don't exactly know what to do once you are in the Digital World. Will you join the Digimon Sovereigns in order to bring peace to a broken world? Or will you cut your losses and join the Seven Great Demon Lords in their plans to rule the DigiWorld?



_________________
Digimon Theme Song (YES, I went there)


Di-Di-Di
Digimon, Digimon
Di-Di-Di
Digimon, Digimon
Di-Di-Di

Digimon, Digital Monsters
Digimon are the Champions
Digimon, Digital Monsters
Digimon are the Champions

Chaaaaange into Digital Champions tooooo
Save or conquer the WORLD!

Digimon, Digital Monsters
Digimon are the Champions
Digimon, Digital Monsters
Digimon are the Champions

Digivolve into Champions
Digivolve into Ultimate!

Digimon, Digital Monsters
Digimon are the Champions
Digimon, Digital Monsters
Digimon are the Champions

Digimon, Digital Monsters
DIGIMON!​
_________________
Rules​



1) Standard roleplaying rules. No godmodding, no powerplaying.
2) The Digivices will have close resemblances to iPhones/iPod Touches.
3) You WILL NOT receive your Digimon partner until you are in the Digital World. Your character will also not make his decision on who he's going to join until they are in the Digital World.
4) You are NOT allowed to kill/knock out the Digimon of player-controlled characters without permission from the player-controller and myself.
5) PLEASE, PLEASE, PLEASE be diverse with your nationality. We don't need the entire DigiDestined team to be Japanese.
6) When receiving your Digimon partner, the Digimon must be In-Training. For a list of Fresh Digimon, please use this link: In-Training Digimon
7) Yes, you may use Agumon, Patomon, Salamon, Gomamon, Palmon, Veemon, etc etc. Just not the same EXACT digimon that were used by previous DigiDestined. By this, I mean you may not use the same exact Agumon that was partnered with Tai.
8) NO player-controlled Digimon will go beyond the Champion level in this Chapter. And YES, I am planning more than one chapter.
9) Our DigiDestined team will be transported to the same spot.
10) Armor Digivolving MAY have an impact in this RP, depending on what Digimon are used.
11) HAVE FUN WITH THIS!
_________________



Digivolving​



The way your Digimon will digivolve is through the number of battles the Digimon has or through the level of danger his/her partner is in. For example, after a battle or two with another In-Training level Digimon, your Koromon will digivolve into an Agumon. Also, if a Rookie-level Digimon is threatening the life of your human character, that will cause your Digimon to digivolve to the Rookie level. This will also work with getting your Digimon to digivolve to the Champion level, though the threat level will have to be greater.

Digivolving from Rookie to Champion takes 10 posts (within the RP) and 5 battles with NPC (or player-controlled) Digimon, 3 battles with a Rookie-level, 1 battle with a Champion or 15 posts. You choose whichever you want. Be aware if your Koromon JUST digivolved into Agumon there is no way it can beat a Champion-level at it's current state. Beating a Champion in a team of Rookies is recommended. The more Digimon you team with to beat a Champion the greater your chances are.
_________________
The DigiWorld​



There are six continents in the entire DigiWorld. File Island, Folder, Server, WWW, Directory, and Proxy Island. File Island, Server, Proxy Island, and the Digimon living on those continents, are willingly under the allegiance of the Digimon Sovereigns. These continents are located in the Western hemisphere of the DigiWorld.

WWW, Directory, and Folder, as well as the Digimon living on those continents, are unwillingly being ruled by the Demon Lords. These continents are located in the Eastern hemisphere of the DigiWorld.

Primary Village, the place were DigiEggs, and the Fresh Digimon born from them, are watched over by Elecmon, is located on File Island.

The Dark Area, graveyard for "deleted data", and the prison in which the most dangerous and evil Digimon are confined, is located in the central-Southern hemisphere of the DigiWorld.

For detailed looks into some of these continents, use this link: List of areas in the Digital World
_________________






Template​




Name: Something simple

Age: Your DigiDestined character must be 12-14 years old.

Gender: Male or female, obviously.

Nationality: African-American, White, Japanese, Indian, Chinese, Mexican, Spanish, etc. All characters should know how to speak good English.

Digimon: The In-Training Digimon that you will most likely choose when you reach the Digital World.

Appearance: The appearance of your character. You may post a picture, or give a written-out description.

Personality: Is your character loud and eccentric? Quick and impulsive? Quiet and a bit of a loner? Quick to make friends? You decide. However, your attitude should reflect which side you join.

Brief Biography: Give your date of birth, your current location, and a brief look into your history.
_________________
Name:
Stephen Granderson
Age:
14
Gender:
Male
Nationality:
African-American
Digimon:
Dorimon
Appearance:
Stephen stands at five feet, five inches tall with black, buzz cut hair. His eyes are hazel-brown, which his mother states will get him any girl he wants. He wears a red, short-sleeved polo shirt with a white t-shirt underneath. His baggy shorts are black while his shoes are red with white shoelaces. He wears a red Chicago Bulls headband, as well as red goggles. The goggles hang around his neck when they are not worn. (YES I TOOK THE GOGGLES)
Personality:
Stephen has been taught by his parents to be a very polite child. Although, he can be quick and impulsive, acting on instinct rather than logic. Also, he tries to make friends with every person he meets that is near his age. Stephen has a strong sense of justice, and his parents of taught him well in knowing right from wrong.
Brief Biography:
Stephen was born on August 28th, 2003. His parents, Wade and Cynthia Granderson, raised him in Chicago, Illinois. When surfing the internet one day, he saw a video of a Digimon attack that took place back in 2002. His parents, although they did witness a Digimon attack back in 2002, deny the existence of Digimon. Stephen thinks his parents are lying to him, and has a strong belief in Digimon and the Digital World.

On his 13th birthday, his parents gave him an iPhone, despite knowing the risk of the high phone bills they may receive. It is very special to him and he treats it with care.
_________________
Name:
Karina Sandoval
Age:
12
Gender:
Female
Nationality:
Mexican-American
Digimon:
Chicchimon
Appearance:
Karina stands at four feet, seven inches high. Her soft, brown hair is short, barely going past her neck. The skin color on her slender frame is moderately light, and her eyes have a color of brown. She is usually seen wearing a pink dress that goes down to her knees. Over the dress, she wears a long-sleeve white jacket. Karina also wears pink shoes. She has to wear glasses because of her very poor sight.

Karina also likes to wear hats, due to the fact that she does not like to show off her hair, as too many people try to touch it. Her favorite to wear is a pink skull cap.
Personality:
Karina is usually a calm and quiet girl. She sometimes only speaks when spoken to, and has very few friends. Her parents have always encouraged her to focus on her schoolwork and not worry about making friends or being popular in school. It does not take much in order for Karina to become sad; seeing something die makes her feel like a part of her has been destroyed.

Also, because of her young age, she is very impressionable, always seeming to follow others instead of leading them. Her parents warn her that this could be a huge disadvantage for her.
Brief Biography:
Karina was born on May 19, 2005 to Guillermo and Danyela Sandoval. Her father is a Mexican immigrant from Cozumel while her mother is a Mexican-American born and raised in Salt Lake City, Utah. Karina's father moved to Utah to escape the blazing heat and poor fortunes of Mexico. It was there that he met Karina's mother. Two years into their marriage, Karina was born.

While surfing the internet one day for a homework assignment, Karina come across several articles referring to the "Digital World." Being as young as she is, curiosity kicked in, and she learned more about the Digital World and it's inhabitants, the Digimon. Ever since she first read these articles, she has become very interested in visiting the DigiWorld, though she does not mention this to her parents, who want her to only focus on her schoolwork.
_________________
The DigiDestined
Stephen Granderson - Dorimon
Karina Sandoval - Chicchimon
Gabriel Boimoux - Gummymon
Jasmine Williams - Moonmon
Clementine Fournier - Koromon
Nikolai Schwartz - Xiaomon
NO MORE CHARACTERS ARE BEING ACCEPTED. WE HAVE REACHED OUR LIMIT.
Last edited: