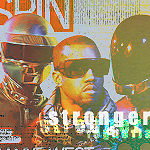 You ain't got no YEEZY!?!
Joined

Oct 5, 2005
Messages

5,680
Age

29
Location
AoS, Daredevil, and Jessica Jones each have their own thread, so Luke Cage deserves his own as well.
Finished the last episode this morning. Goddamn, this show is great. Everything, from the performances, to the music, to the realistic look and feel of Harlem. Damn, they nailed it.
Mike Colter as Luke was a perfect casting. This man gave the performance of a lifetime. So were Alfe Woodard as Mariah Dillard and Mahershala Ali as Cottonmouth. I was super disappointed that they killed Cottonmouth off because he would've been a great villain to work alongside Kingpin in The Defenders, but I understand why they did it, in order to develop Mariah into her "Black Mariah" persona.
And that MUSIC. GODDAMN, THAT MUSIC. Every song and every score fit each scene perfectly. Also, being a black man myself, it was so amazing to see this show be so black and damn proud of it, and not afraid to be proud of it. They took every opportunity in each episode to bring awareness to the social and racial issues that plague both black and Latino communities that take place not only in Harlem, but all over the U.S.
If I have to give some criticism to this show, it would solely be on
Diamondback. The built him up to be a villain that might even give Kingpin a run for his money yet he turned out just to be another generic Marvel villain out for revenge against the main character. That's why I wish they hadn't killed off Cottonmouth and saved him for next season and The Defenders instead of Diamondback.
Other than that, this show was damn great and all of you need to take the time to binge it.
I love all the Marvel/Netflix shows, but if I had too, Luke Cage would probably be neck and neck with season 2 of Daredevil.
Last edited: