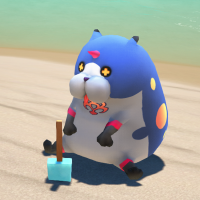 Site Staff Manager
Staff member
5 story quests were added (No. 911~915.) In addition, Bad Guy Breaker can now be upgraded to +50, the same as the other Keyblades.
Watch the scenes with English subtitles with translations by goldpanner!
About 4 years ago--

(Brain and Ava are on the cliffs overlooking Daybreak Town. Brain is laying on the grass with the rulebook on his chest, listening to Ava speak.)

Brain: Union leader? Me? You must be joking.

Ava: I'm serious.

Brain: I'm not the leader type and you know it.

What made you decide to appoint me?

Ava: I didn't. My Master did.

(He sits up, in shock.)

Brain: Your Master? THE Master of Masters?

Ava: That's right. So, do your best.

(Brain leafs through the rulebook.)

Brain: Do my best? You say that like it's gonna be easy. This seems like it'll be a real pain, and who are these other four?

Ava: I can't tell you just yet.

Brain: Is that so?

The five of us are to convene after the war, so you want to avoid any unexpected turn of events that would result in us coming in contact with one another ahead of time.

Sounds pretty shady if you ask me. It's like this is some sort of script.

Ava: Oh Brain, you've always been a bright one.

Brain: Uh, so are you saying I'm right? Because if I am, then that can't be good.

(Ava sits down beside him.)

Ava: Suppose the fate of this world were set in stone. What would you think?

Brain: That it's awful.

Ava: Why?

Brain: A future that goes exactly as planned? That's boring.

Ava: But what if it's not about things going as planned, but knowing what events are going to happen?

Brain: The Book of Prophecies, you mean?

Ava: That's right. If something is written in the Book of Prophecies, that doesn't mean you wouldn't be able to change it.

Brain: I guess so…

Wait.

(He's deep in thought.)

Brain: But if that's the case, then shouldn't the changes have been written in the Book of Prophecies to begin with?

No… that'd be contradictory…

Hmm, could it be that the book gets rewritten whenever something changes?

(Ava laughs.)

Ava: I don't know what will happen if something does change. I think the fact that we don't know proves there's a future that's not planned for, don't you?

Brain: Does it really prove that?

Ava: Maybe, maybe not. Still, I can't help but wonder, what would happen if we changed the fate that's already been written?

(She presents him with the Book of Prophecies.)

Ava: That's why I'm giving you this.

You are the only one of the five that I am giving the Book of Prophecies to.

Brain: What? Me??

(Ava gets up, and takes out a sheet of paper.)

Ava: My Master gave me this note containing the names of the five Union Leaders.

He put a circle around the one I was to entrust the Book of Prophecies to. No one else is allowed to see inside it.

(Ava takes the book from Brain and hides the Master's memo inside.)

Ava: I've placed the note between the pages where your future has been written. Someday, when you open the book to these pages, I'm sure you'll be able to recognize my message.

(Brain gets up and takes the book from her.)

Brain: Nah. I've already received your message, loud and clear.

(Present day. Brain rocks back and forth in his usual spot in the Foretellers' room, deep in thought.)

???: Have you thought of something?

(It's Lauriam.)

Brain: Are you kidding? I've barely even started.

Lauriam: I thought so.

In any case, the other three said they'd stay in the control room a little longer.

Brain: Alright.

Lauriam: Anyway, I'm sorry to bring up personal matters in the middle of all this, but I was able to meet and speak with a friend of Strelitzia's. Apparently, right before she disappeared, Strelitzia had been speaking with conviction about the Keyblade War…

Earlier, you said you found it strange that someone like her, who was hesitant about joining the Dandelions, would be desperately trying to invite someone else.

I'm sure the reason behind her change of heart was because she'd just learned of the Keyblade War beforehand.

Brain: But, every member of the Dandelions knew about that. Even if she was hesitant, she would have known the war would happen.

Lauriam: Yeah, that's exactly what I mean. She would have known, so why was she suddenly trying to invite Player?

Brain: I get it now. 

She knew about the war, but something prompted her to hastily change her convictions.

Lauriam: Yeah.

(Brain thinks back to something Ava said.)

Brain: But you know, I'm going to open the Book of Prophecy as little as possible.

Ava: That's fine. You'll know when the time is right.

(Present day.)

Brain: I may have thought of something.

Lauriam: Huh?

Brain: Could you give me some time to think by myself?

Lauriam: I understand. I'm counting on you.

Brain: I know.

(Meanwhile, Maleficent emerges from a dark corridor emerges in Daybreak Town.)

Maleficent: So this is Daybreak Town…

This place is filled with the wretched stench of light. Does this world truly hold the key to returning me to my original time?

(Dark flames erupt beside her. Darkness is hidden within its shadows.)

Darkness: Yes.

(Maleficent smiles.)
(Somewhere...)

???: Whoaaaaaaaa!

(Ralph and the Cy-Bug are ejected from the crashed escape pod into a forest of candy canes. They crash into the trees; Ralph manages to hold on but the Cy-Bug falls into a pond of sticky taffy.

Ralph realizes his medal fell off. He spies it hanging on a branch on a tall tree in the distance and makes his way over to get it. As he begins to climb, he hears a voice.)

???: Hi, mister!

(He spots a little girl gazing down at him from the upper branches.

Meanwhile, Player returns to Game Central Station to find Felix and Calhoun in front of the gate to Sugar Rush.)

Felix: Heeey!

I'm back with news. Ralph has definitely gone into another game.

Calhoun: Sugar Rush... Cy-Bugs'll chew up that game faster than a chicken hawk in a coop of crippled roosters.

(Calhoun starts walking towards the gate.)

Felix: Uh. What was that now?

Calhoun: What're you, thick? There was a Cy-Bug on that shuttle.

Do you even know what a Cy-Bug is?

Felix: I can't say that I do, ma'am.

Calhoun: Cy-Bugs are like a virus. They don't know they're in a game. All they know is eat, kill, multiply.

Without a beacon to stop them, they'll consume Sugar Rush and invade every other game until this Arcade is nothing but a smoking husk of forgotten dreams.

(Calhoun goes through. Player and Felix chase after her. She gets out her hoverboard and prepares to board.)

Felix: Wait, ma'am! I'm going with you.

Calhoun: Like fun you are, short stack. You die outside your game, you don't regenerate.

Felix: Well, neither do you, ma'am. Now, it is my job to fix what Ralph wrecks. And I cannot ask you to risk your life cleaning up his mess. 

No flex on this one, ma'am. I am coming along with you.

(Calhoun pauses. She gets on the hoverboard, and motions for Felix to join her. Player approaches them.)

Calhoun: This is as far as you'll go, citizen. Leave the Cy-Bug to me.

(She and Felix depart for Sugar Rush. Chirithy appears once they've left.)

Chirithy: Aw man, they ditched us.

It sounds like Cy-Bugs are different from Heartless, but if they devour worlds, then perhaps they are a type of darkness…

Either way, maybe they're the source of the glitches. Let's follow Ralph.

(Player nods, and heads in. They soon find the crashed shuttle.)

Chirithy: This is…

 

(They take in their new surroundings and head towards the crashed shuttle.)

Chirithy: This must be the vehicle Ralph rode in on.

He couldn't have gotten too far. Let's hurry and find him!
(Ralph is hanging on the branch of a candy cane tree, pleading with Vaneloppe to return his medal.)

Ralph: It's mine. It's precious to me.

That thing's my ticket to a better life.

Vaneloppe: Yeah, well, now it's my ticket.

(She glitches.)

Ralph: What the…?

Vaneloppe: See ya, chump!

(Vaneloppe leaves with the medal. Ralph calls out after her.)

Ralph: Come back!

I'll find you! I will find you!
(Vaneloppe tries to run away with the medal but keeps glitching out.)

Vaneloppe: Ugh, this sucks. Just when I finally get a coin!

(She tries again to get away but the glitching gets out of control.)

Vaneloppe: Wahhh, somebody help me!

(Player watches, perplexed by the phenomenon.)

Vaneloppe: Phew. It finally got better.

(Rinse and repeat. Eventually, she notices Player.)

Vaneloppe: Huh. I don't know why, but it looks like it calms down when I'm around you.

I'm Vaneloppe, nice to meet you! As you can see, I'm a born racer.

(They shake hands.)

Vaneloppe: Hey, can I ask you for a favor? The race is about to start.

There's a race track right outside of this forest. Take me there!

(Player nods.)
Last edited by a moderator: