100 Acre Wood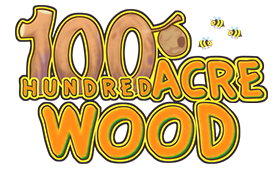 First Appearance: KINGDOM HEARTS (2002)
Origin: The Many Adventures of Winnie the Pooh (1977)
100 Acre Wood is a world that is contained inside a book. The book is passed from Cid to Sora who is instructed to hand the book to Merlin. When Sora gives the book to Merlin, Merlin notes that the book holds special properties and that Sora must find the torn pages in order to explore the entirety of the book.
When Sora first enters the book, he stumbles upon a quiet meadow where alone sits a small yellow bear. This bear is known as Pooh and he is seen contemplating how to say goodbye to himself. Sora then approaches Pooh and Pooh asks Sora if he had come to say goodbye. As Sora presses Pooh for his predicament, Sora finds out that all of Pooh's friends are missing, as well as his very favorite honey tree. Pooh then decides that he is hungry and leaves for his home. Sora follows and is there greeted by Owl, who serves as Sora's guide to 100 Acre Wood. When Sora enters Pooh's house, Pooh is desperate for some honey, but his honey tree is missing.
When Sora recovers the honey tree page, he's able to enter the new area that is the honey tree. There he meets a very frightened Piglet who is looking for Pooh to give him something. Sora then chases Piglet around and eventually consoles the little piglet and reassures him that Pooh is with him. When Piglet sees Pooh, he runs to his best friend and gives Pooh the balloon he had apparently been asking from Piglet. Pooh uses this balloon to float all the way to the top of the honey tree and retrieves some honey, but not without the help of Sora who has to jump from branch to branch and whack away the bees that are threatening to pop Pooh's balloon.
The next page to be recovered is Rabbit's House, here Sora stumbles upon a distressed Rabbit and Piglet. It seems that Pooh has gotten himself stuck in a hole in Rabbit's house. Rabbit exclaims that he can get Pooh out by procuring some carrot juice from his garden. Just as Rabbit goes to get some carrot juice, Tigger bounces onto the scene, literally, and when he does, he breaks the Rabbit's bridge and proclaims Rabbit's garden as his new bouncing ground. Sora then has to protect Rabbit's garden crops from Tigger's excessive bouncing. Only when Sora is successful are they allowed to retrieve the carrot juice and rescue Pooh.
Sora then gets to meet Eeyore at the 100 Acre Wood hill. Sora and the 100 Acre Wood gang find Eeyore floating down the river. Sora is quick to rescue the poor Eeyore, however, Eeyore is then upset that he had last his tail somewhere. Pooh offers to help Eeyore look for the tail by getting Sora to push Pooh on the swing as high as he can so that Pooh can get a bird's eye view of the area in order to find the tail. Once Pooh is pushed high enough however, he flies off and lands on Eeyore's house, which ends up being where Eeyore's tail was all along.
During the penultimate page, Sora finds Roo and Tigger bouncing on a teeter-totter, when Sora goes to talk to them he gets involved in a game where Tigger hides in a giant pot in which he must hit nuts back at the pot from which Tigger throws them and shatter the pot in the process.
Once Sora finds the last page, he stumbles once again upon a distressed Pooh who cannot seem to find his friends. Sora, naturally, offers to help him, and they set off to find Piglet, Tigger, Rabbit, Owl, and Roo. After Sora finds them all, Sora and the gang all gather on top of Starry Hill. Sora tells them that he must go and find his own friends. All of the gang try to convince Sora not to go, and only when Sora tells them that if they want to find him, to look into their hearts, is Sora able to leave. But not without Pooh telling Sora to come back whenever he likes first.
---
Notice a problem on this page? Let us know and we will fix it right away!