Disney Castle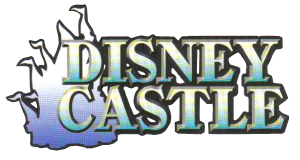 First Appearance: KINGDOM HEARTS (2002)
Disney Castle - a proud, majestic structure, its residents consumed in the hustle and bustle of the usual morning activities. It was a day like no other... or was it? As Donald Duck, the Court Mage, walks briskly towards His Majesty's throne with his daily greeting halfway out of his mouth, he is shocked to discover the room, empty, and the King, missing. Pluto, the King's beloved canine companion, emerges from behind the throne, with a mysterious scroll bearing the royal seal in his mouth. A quick scan of the scroll's contents easily sends Donald into a panic, and he dashes out with a cry of alarm.
Donald quickly locates the Captain of the Royal Guard, Goofy, sleeping out in the gardens without a care in the world. It takes a powerful bolt of lightning and a very frustrated mage to stir him from his slumber. He relays the news to Goofy, and decides that they must not worry Queen Minnie or Lady Daisy. At least, that's what they had planned until they were found out by the aforementioned two.
With everyone now fully aware of the rather dire situation at hand, Donald volunteers himself and Captain Goofy to go out in search of their King and this mysterious Key. Joining them as well is Jiminy Cricket, a refugee from another world who fled to the castle when his world was destroyed, serving as the recorder for their journey. The trio makes their way to the Gummi Hangar, where Engineers Chip and Dale have prepared a ship for their travels. With Pluto serving as a last minute addition to their party, they bravely set off into the ocean of worlds, and their adventure begins.
---
Notice a problem on this page? Let us know and we will fix it right away!