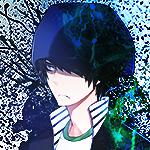 Joined

Jul 21, 2008
Messages

7,141
Awards

4
Age

30
Capell raised an eye brow as a fellow AotSA member fumbled trying to grab Jack. "Uhhhh. What are you doing? I've already got him man..." He pulled out a pair of hand cuffs. "Go help my partner why don't you? He's fighting the weirdo with the boomerangs." He turned back to Jack, telling him to turn around. After putting him in a pair of hand cuffs he pushed him towards a squad car. He opened the door and put him in. "Take him to the station, I'll be right behind you." He told a police officer.

"And why should I take orders from you, freak!?"

Capell sighed out of annoyance, he just had to find the most obnoxious officer in the city didn't he? "How about if you don't I turn your car into scrap metal!?" The officer jumped back in surprise.

"Y-yes sir."

"That's what I thought." Capell hurried to his motorcycle and turned it on. He got behind the car with Jack in it, getting ready to follow them.