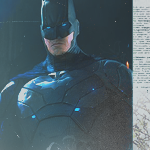 Joined

Aug 20, 2005
Messages

5,087
i'm double postin'. i'm bored so i'll update.

The group found a place to hide form the hunters. "How is he?" asked Sakura as she walked over to Kairi who was tending th Sora's wound. "He lost alot of blood but he'll be fine." "That's a good. I don't think we could take another attack like that without him. Sora's the srtongest person here. and I don't me just his strenght." "I know what you mean. Sora's a great leader. He keeps a cool head. Most of the time. Fighting the Heartless has changed him and Riku alot. I'm going to look for some more herbs for Sora's wound." "I'll go with you." The two girls left the cave they wre hiding in. "What's i look like?" asked Sakura. "It looks like a heart. I found it! We better get some berries while we're out here." The two animals heade back towards the cave with their supplies when a familiar figure appered in front of them. "No, it can't be... Riku got rid of you!" Kairi cried. It was Ansem, the seeker of darkness. Hecharged at Kairi but was taken down by Sora. The shadowy figure disappeared as Sora passed out.

I' might be able to add on tomorrow so keep reading!