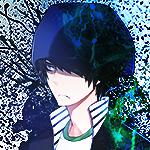 Joined

Jul 21, 2008
Messages

7,142
Awards

4
Age

31
Try continued swinging her keyblade at anything that moved, the horrible sounds her weapon left in it's wake accompanying the death of too many Heartless to count at this point. She reached for the neck of a neo-shadow, only for it to be drawn away from her. The same happened to all the Heartless until they were pulled together. It looked like someone's magic had backfired spectacularly. This battle was starting to look hopeless.

"Ha...haha..." A chuckle came from underneath her helmet, whether it was a nervous tick or genuine happiness wasn't clear. What was clear however, is that Try was sprinting straight towards the massive tower of Heartless.

"Kill it! KILL IT!" She screamed manically as she swung her keyblade, rending space at the base of the tower.
Last edited: